The Sweet Science Rankings: Week of July 3, 2023 | Boxing News – The Sweet Science




Published
on
By
The Sweet Science Rankings: Week of July 3, 2023
It's all change at 154lbs this week as every fighter on the list gets a move. After fourteen months of inactivity, Jermell Charlo has announced a fight – at 168lbs. The divisional number one is therefore stripped of his 154lbs ranking with everyone below him moving up a slot, with the exception of Brian Castano, his opponent in May of last year. Castano is also 14 months inactive with no fight announced and is also removed. This means that Tim Tszyu becomes the divisional number one, deservedly, but not in a manner he would have chosen. Bakhram Murtazaliev (Russia) and Israil Madrimov (Uzbekistan) assume the #10 and #9 slots respectively.
At 108lbs, South African Sivenathi Nontshinga moves up a slot after a desperately close fight with Regie Suganob (Filipino). Despite the judges' scorecards, this was close and Suganob continues to hold the #7 position. Moving to #7 at 160lbs is German Vincenzo Gualtieri who edged and replaces Brazilian Esquiva Falcao. Finally, there is a change at heavyweight, Arslanbek Makhmudov (pictured) debuting at #10. Makhmudov (Russia) basically shares the number 10 spot with the usurped Frank Sanchez (Cuba) not to mention Luis Ortiz (Cuba), Michael Hunter (USA), Martin Bakole (England) and Jared Anderson (USA). These six fighters will likely trade the number ten spot as they dominate gatekeepers until one of them matches a contender.
105lbs
1 Knockout CP Freshmart (Thailand)
2 Petchmanee CP Freshmart (Thailand)
3 Oscar Collazo (USA)
4 Ginjiro Shigeoka (Japan)
5 Wanheng Menayothin (Thailand)
6 Daniel Valladares (Mexico)
7 Yudai Shigeoka (Japan)
8 Melvin Jerusalem (Philippines)
9 Masataka Taniguchi (Japan)
10 Rene Mark Cuarto (Philippines)
108lbs
1 Kenshiro Teraji (Japan)
2 Jonathan Gonzalez (Puerto Rico)
3 Masamichi Yabuki (Japan)
4 Sivenathi Nontshinga (South Africa)*
5 Hekkie Budler (South Africa)*
6 Elwin Soto (Mexico)
7 Regie Suganob (Philippines)
8 Shokichi Iwata (Japan)
9 Carlos Canizales (Venezualo)
10 Daniel Matellon (Cuba)
112lbs
1 Sunny Edwards (England)
2 Artem Dalakian (Ukraine)
3 Julio Cesar Martinez (Mexico)
4 Angel Ayala Lardizabal (Mexico)
5 David Jimenez (Costa Rica)
6 Jesse Rodriguez (USA)
7 Ricardo Sandoval (USA)
8 Felix Alvarado (Nicaragua)
9 Seigo Yuri Akui (Japan)
10 Cristofer Rosales (Nicaragua)
115lbs
1 Juan Francisco Estrada (Mexico)
2 Roman Gonzalez (Nicaragua)
3 Kazuto Ioka (Japan)
4 Fernando Martinez (Argentina)
5 Junto Nakatani (Japan)
6 Srisaket Sor Rungvisai (Thailand)
7 Kosei Tanaka (Japan)
8 Andrew Moloney (Australia)
9 Francisco Rodriguez Jnr. (Mexico)
10 Pedro Guevara (Mexico)
118lbs
1 Emmanuel Rodriguez (Puerto Rico)
2 Jason Moloney (Australia)
3 Nonito Donaire (Philippines)
4 Vincent Astrolabio (Philippines)
5 Gary Antonio Russell (USA)
6 Takuma Inoue (Japan)
7 Alexandro Santiago (Mexico)
8 Ryosuke Nishida (Japan)
9 Keita Kurihara (Japan)
10 Paul Butler (England)
122lbs
1 Stephen Fulton (USA)
2 Marlon Tapales (Philippines)
3 Luis Nery (Mexico)
4 Murodjon Akhmadaliev (Uzbekistan)
5 Sam Goodman (Australia)
6 Azat Hovhannisyan (Armenia)
7 Kevin Gonzalez (Mexico)
8 Ra'eese Aleem (USA)
9 Takuma Inoue (Japan)
10 John Riel Casimero (Philippines)
126lbs
1 Luis Alberto Lopez (Mexico)
2 Leigh Wood (England)
3 Brandon Figueroa (USA)
4 Rey Vargas (Mexico)
5 Mauricio Lara (Mexico)
6 Mark Magsayo (Philippines)
7 Josh Warrington (England)
8 Robeisy Ramirez (Cuba)
9 Reiya Abe (Japan)
10 Otabek Kholmatov (Uzbekistan)
130lbs
1 Joe Cordina (Wales)
2 Oscar Valdez (Mexico)
3 Hector Garcia (Dominican Republic)
4 O'Shaquie Foster (USA)
5 Shavkatdzhon Rakhimov (Tajikistan)
6 Roger Gutierrez (Venezuela)
7 Lamont Roach (USA)
8 Eduardo Ramirez (Mexico)
9 Kenichi Ogawa (Japan)
10 Robson Conceicao (Brazil)
135lbs
1 Devin Haney (USA)
2 Gervonta Davis (USA)
3 Vasily Lomachenko (Ukraine)
4 Isaac Cruz (Mexico)
5 William Zepeda Segura (Mexico)
6 Frank Martin (USA)
7 George Kambosos Jnr (Australia)
8 Shakur Stevenson (USA)
9 Raymond Muratalla (USA)
10 Keyshawn Davis (USA)
140lbs
1 Teofimo Lopez (USA)
2 Regis Prograis (USA)
3 Jose Ramirez (USA)
4 Jose Zepeda (USA)
5 Jack Catterall (England)
6 Subriel Matias (Puerto Rico)
7 Arnold Barboza Jr. (USA)
8 Gary Antuanne Russell (USA)
9 Zhankosh Turarov (Kazakhstan)
10 Shohjahon Ergashev (Uzbekistan)
Andre Ward Leaves a Void at ESPN
Published
on
By
ESPN, the self-styled "Worldwide Leader in Sports," has been tightening its belt by laying off a significant fraction of its on-air talent. The versatile Max Kellerman, a longtime boxing commentator, got caught up in the latest round of dismissals. Andre Ward is also leaving the network, although his situation appears to be a bit different as his contract was about to expire. Ward shared the mike with Bernardo Osuna, Tim Bradley, Mark Kriegel, and Crystina Poncher on the most recent ESPN offering, last Saturday's show in Toledo featuring heavyweight Jared Anderson in the main event. Lead announcer Joe Tessitore was on vacation.
America's last Olympic gold medal winner in boxing, Ward turned pro in 2004 at age 20 and forged a 32-0 (16 KOs) record before leaving the sport in 2017. In his final fight, he scored an eighth-round stoppage of Sergey Kovalev. Seven months earlier, he had upended the previously undefeated Russian, rallying from a deep hole to win a unanimous but controversial decision. Ward announced his retirement four days after the rematch and was elected to the International Boxing Hall of Fame in his first year of eligibility.
To say that a boxer is leaving the sport on top is a cliché, but in Andre Ward's case it was absolutely true. At the time of his departure, he was rated #1 on the pound-for-pound list of The Ring magazine.
As a boxer, Ward was noted for his high ring IQ. He wasn't flashy inside or outside the ropes and that kept him from transcending his sport unlike, for example, Floyd Mayweather Jr. "Only in America could a boxer win an Olympic gold medal, be thoughtful, articulate, and a good family man, live his life free of scandal….be recognized as one of the best fighters in the world pound-for-pound, and be largely ignored by the mainstream sports media," wrote Thomas Hauser in a story that appeared on these pages.
Ward's announcement that he was hanging up his gloves was conjoined with the news that he was joining HBO as a boxing analyst. He pivoted to ESPN before HBO abandoned its live coverage of boxing at the end of 2018.
For whatever it's worth, it's been my observation that elite athletes, with a few notable exceptions, make poor talking heads.
Andre Ward is a notable exception.
I ask three things of a TV sports analyst: (1) don't mangle the king's English; (2) don't over-sugarcoat it; and (3) tell me something I don't already know. Andre Ward checked every box.
What's next for the former two-division world title-holder who turns 40 next year? The best guess is that he will move on to a rival network. Showtime would seem to be the most logical destination. A 103-minute Showtime documentary, "S.O.G. – The Book of Ward," premiered on June 2. And more than a few subscribers to DAZN would be elated if he turns up there.
I wouldn't be shocked, however, if he returns to the ring. True, Andre is seemingly too level-headed for that, but to say there is a precedent for it would be a great understatement.
Sugar Ray Leonard retired and unretired five times before he had his last fight at age 42. In December of 1980, Larry Holmes, then 31 years old, vowed that he would retire after five more fights. He soldiered on for another two decades and had his last fight at age 52. I could go on and on.
"Tonight's show was the last fight under my ESPN contract," said Ward to his followers on Instagram before leaving Toledo. "It's been a great ride and I'm going to miss the whole ESPN crew that I've worked with for the last six years. I'm excited about my future and the chance to work in new projects and endeavors. Great things are ahead."
We don't doubt it and we wish him well.
To comment on this story in the Fight Forum CLICK HERE
Published
on
By
Two lives unknowingly became intertwined on February 25, 1964, at the Miami Beach Convention Center when Cassius Clay faced the reigning heavyweight champion Charles "Sonny" Liston, a 7-1 betting favorite over the brash 22-year-old challenger from Louisville, Kentucky.
Seated ringside was Robert Lipsyte, who was covering the match for the New York Times, seven years after graduating from Columbia University with an English degree.
Clay, who would shortly change his given name to Muhammad Ali, was thought to be in over his head.
"The regular boxing writer, Joe Nichols, terrific guy, also covered horse racing which he was more interested in," Lipsyte said. "His feeling, as was the general feeling, was that Cassius Clay would be knocked out in the first round and he did not think it was worth his time to go all the way down to Miami Beach for less than one round."
Lipsyte, who had two tours at the Times beginning in 1957 and running through 1971, and 1991 through 2003, was looking for his big break.
"He kind of looked around the newsroom and he pointed to me and he said, "the kid on the night rewrite, he's not doing anything, send him." That's a bit of a legend," he said. "The point was they were ready to move me up. The fight was in February. The decision was probably made in October to send me down. Those decisions are certainly made long in advance. And so, I had a number of months to go to every boxing match I could go to, interview fighters, read everything."
Getting this assignment wasn't lost on Lipsyte, who would become one of the vaunted Sports of the Times columnists, and during his long career would be highly decorated, including winning the Margaret A. Edwards Award from the American Library Association for lifetime contribution to Young Adult Literature in 2001. Previously he was a finalist for the Pulitzer Prize for Commentary in 1992 and won the A.J. Liebling Award for Outstanding Boxing Writing from the Boxing Writers Association of America in 1995.
"I was enormously inexperienced compared to Joe Nichols, but I had a little sense of boxing when I went down there. I was very excited. Even if the fight was going to be over in 10 seconds, I had never been to a heavyweight championship fight," he admitted. "Remember this was 1964 when boxing was very important and it was still a major sport in America and really a heavyweight fight held the same prestige as the Super Bowl now. It's hard to believe."
"Think about the excitement of being in the arena for a heavyweight championship fight. The Super Bowl. A Broadway opening. Think of anything that has that kind of crackle and electricity," said Lipsyte, a New York City native. "I was totally thrilled to be there."
Like every writer, Lipsyte, who has published roughly two dozen books of non-fiction and fiction including "SportsWorld: An American Dreamland," "The Contender," and "An Accidental Sportswriter: A Memoir," arrived in South Florida several days before the fight.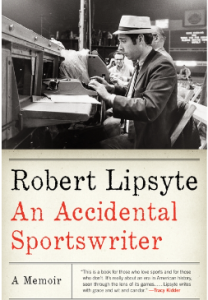 "I had spent a week now down there, most of that time with Clay and I really liked him a lot which was not necessarily the consensus and my thought was that I hoped he wouldn't get hurt too badly because I really liked him," he said. "I hoped he would stay around and I could interview him some more."
At the time, Lipsyte was 26 and part of the younger generation of sportswriters.
"Most of the sportswriters down there were older experienced guys, like Joe Nichols would have been, and then there were the younger guys," he said. "The younger guys gravitated to Clay's camp and hung out there. The older guys went to Liston's camp where his entourage included Joe Louis who was the hero of their young manhood."
On the night of the fight, the overwhelming majority of scribes concurred with the Las Vegas oddsmakers and favored Liston.
"Up until the very moment that the two fighters came into the ring, beside my excitement to be there, was this feeling I really hoped he would be able to dance away enough so he would not get hurt," Lipsyte said. "Then the moment the two fighters came into the ring, I suddenly had this thought that Cassius Clay is much bigger than Sonny Liston."
Lipsyte's concern for Clay's safety quickly dissipated as he dominated the action which resulted in a sixth-round stoppage and technical knockout victory when Liston failed to come out for the seventh round.
"In our minds, we had created this David versus Goliath narrative but actually it's really not quite true," he said. "Clay was taller. He was broader and he took command of the fight almost immediately and it changed everything. I would say only one or two of the 100 reporters at ringside gave him a chance to win."
Compared to many of the veteran sportswriters at the clash, Lipsyte was a pup.
"I was young and inexperienced and I went along with what the experienced big shots were saying," he said of Liston's menacing stare and potent punching power. "I assumed that because Liston was terrifying. He could make you pee in your pants at a press conference."
Looking back on what Clay and later Ali meant to him, Lipsyte is grateful for that time and opportunity.
"I always say that when Cassius Clay beat Sonny Liston it was as much of a career move for him as it was for me. It changed everything. Suddenly I was no longer this young newcomer, a feature writer at the paper," he said. "I was immediately the boxing writer. Being the boxing writer at that point meant the Muhammad Ali writer. That was the biggest story in sports for a long time and I covered it. I got more out of it right away than he did. It absolutely made my career."
Even though Clay had been the newly-minted heavyweight champion, he had tough sledding because of his unpopular stances.
"He was excoriated for becoming a member of the Black Muslims," Lipsyte said. "There were all kinds of rumors that the fight was fixed in some way. It took a while for the Muhammad Ali we think about now. A lot of people and certainly a lot of very important older sportswriters like Red Smith, Jimmy Cannon and Arthur Daley, if they didn't despise him, they certainly wrote as if they did. He refused to go into the Army. He repudiated the Christianity of his parents. At the middle of the civil rights movement in America, he was a segregationist. He was so many things that white America was either afraid of or hated because they were afraid of."
No one is perfect and that includes Ali. Still, Lipsyte recited an example of his kindness.
"He and I had a midnight plane ride back to New York," he recalled. "There was a little old lady and she took a picture. She clicks and he reaches out. "Your lens cap was on," he said. "I wouldn't want her to have missed taking a picture of the champ."
Lipsyte mentioned a second incident of Ai's generosity.
"I pulled up next to him on the plane with an economy ticket," he noted. "I sat down next to him. I told him I had to get back in my seat. He said, "don't worry, you're with the champ," and of course nobody bothered us the whole time. What I remember was his generosity, his spirit, his kindness and his sense of who he was and the world's sense of who he was. It all was encapsulated for me in that little story. That was him."
Another time when Ali seized center stage was at the Atlanta Olympics.
"That moment when he lit the Olympic torch in 1996, it's the first time I have ever cried at a sporting event," Lipsyte remembered, "and later finding out that hot wax was dripping on his hand and burning him but he never let on. He just held that flame in his quivering hand. It was kind of a testament to his gallantry."
Though Lipsyte covered many boxing matches, his favorite sport is baseball, and in a curious way he finds much about the sweet science that he doesn't much care for.
"I never liked boxing. This is something I'm struggling with right now. Boxers are my favorite athletes," he stated. "They're the best athletes to talk to and in the old days you had access. I love boxers. They're fun to write about. I hated boxing."
Asked if he keeps up with boxing, Lipsyte said that he hasn't for a long time.
"I don't follow boxing. The last time I followed boxing was when one of the heavyweight champions, one of the Klitschko brothers [Vitali] was mayor of Kyiv," he said. "I kind of lost interest. The whole thing didn't make sense anymore."
Living on Shelter Island in Long Island, New York, Lipsyte turned 85 on January 16 and has several grandchildren and outside interests to occupy his time.
"I'm very busy. I'm still writing. I have a great family. At my age, I'm playing with the house's money," he said. "I go to memorials for my friends and that's it. The last birthday that really rocked me was 30. That was the end of childhood."
As a wise elder, Lipsyte can lay claim to being present at many unforgettable sporting events, including what Sports Illustrated ranked fourth on its list of greatest sports moments of the 20th century, the night Clay shocked the world, and two iconoclasts were launched.
To comment on this story in the Fight Forum CLICK HERE
Published
on
By
Top Rank was in Toledo, Ohio tonight showcasing two of the sport's most dynamic heavyweights. It was a homecoming for Toledo native Jared Anderson who was matched against former IBF title-holder Charles Martin in the featured bout.
Heading in, Anderson had won all 14 of his fights by knockout while answering the bell for only 33 rounds. Tonight, he was forced to go the distance and although he won a lopsided 10-round decision (98-91, 99-90, 99-90) he had more than a few anxious moments.
Anderson scored the bout's only knockdown, dropping Martin in the waning seconds of round three with an overhand counter right hand. Martin was up in a jiff complaining that their legs had become tangled but replays showed otherwise.
Round five was the most one-sided round of the fight and in a major surprise the round belonged to the pony-tailed Charles Martin who at age 37 was the older man by 14 years. He had the house fighter on rubbery legs. It was the first time in his career that Anderson had faced adversity. But Anderson weathered the storm. Martin (29-4-1, 26 KOs) landed a big left hand in the seconds before the final bell, but Anderson remained upright and when the final bell sounded, the decision that would be rendered in his favor was a mere formality.
Makhmudov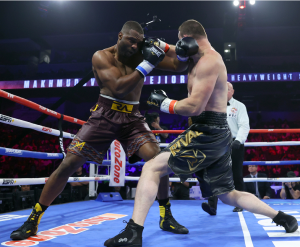 Arslanbek Makhmudov has stopped 16 of his 17 opponents. The latest victim was Raphael Akpejiori who was overwhelmed in a match that was all over in the second round. A native of Nigeria who lettered four years in basketball at the University of Miami without getting much playing time, the six-foot-eight Akpejiori entered the contest with a misleading 15-0 (14) record.
A stablemate of Artur Beterbiev, Makhmudov carried 263 ½-pounds on his six-foot-five frame. There is no finesse to his game – both he and Akpejiori drew warnings in the opening round for roughhousing – but like Beterbiev, he is a human steamroller, a man who clubs his opponent into submission, albeit not as methodically as Beterbiev; at age 34, the Russian Lion is a man in a hurry. He scored three knockdowns before the fight was waived off.
Other Bouts of Note
In a 6-round match that was sandwiched between the main attractions, Abdullah Mason (8-0, 7 KOs), a 19-year-old Cleveland southpaw with a big upside, blasted out Alex de Oliveira in the second round. A succession of left uppercuts, the last of which came with de Oliveria off his feet, sprawled against the ropes, brought the bout to a conclusion at the 2:18 mark of the second stanza. It was the fifth straight victory inside the distance for the Cleveland phenom who advanced to 9-0. de Oliveira, a 37-year-old Brazilian who stepped away from boxing for 10 years to pursue a career as a lawyer, falls to 20-5.
Cleveland junior welterweight Delante "Tiger" Johnson, a Tokyo Olympian, advanced to 10-0 (5) With an 8-round shutout over Jonathan Montrell (15-2) of New Orleans. The fight wasn't quite as lopsided as the 80-72 scores would suggest. Montrell was a willing mixer but was outclassed.
In an 8-round junior lightweight affair, Toledo's Tyler McCreary finished strong to win a unanimous decision over Deivi Julio. It was the second fight back for McCreary (18-2-1) following back-to-back defeats and then a drive-by-shooting in which he suffered a gunshot wound to his hand. The scores were 59-54 and 57-56 twice.
A 42-year-old Brazilian, Julio (26-14) had his moments and would have theoretically earned a draw if not for having had a point deducted for holding in the second round.
There was a big upset in a 6-round junior welterweight match. Rance Ward, a boxer from Houma, Louisiana, who was 7-5-1 heading in, scored a majority decision over previously undefeated Husam Al Mashhadi (6-1, 5 KOs). The scores were 59-55, 58-56, and a curious 57-57.
Photo credit: Mikey Williams / Top Rank via Getty Images
To comment on this story in the Fight Forum CLICK HERE
Light Heavyweights on Display as 'Sho Box' Returns to Turning Stone
Adrien Broner Returns to the Ring with an Attorney in the Opposite Corner
Teofimo Lopez Upsets Josh Taylor at Madison Square Garden
Arrests Made in the 2015 Theft of Championship Belts, but There is Sad News
The Dempsey-Gibbons Fiasco: An Odd Duck in Boxing's Rollicking Summer of '23
Munguia Nips Derevyanchenko in a Fierce Battle at Ontario
Berlanga UD 12 Quigley in New York; Adames TKO 9 Williams in Minnesota
Tim Tszyu Blasts Out Carlos Ocampo in 77 Seconds
Powered by IBofP © 2021 thesweetscience.com All rights reserved.
Boxing News: Charlo wins in comeback fight » December 4, 2023 – Fight News




In a grudge match, undefeated WBC middleweight champion Jermall Charlo (32-0, 22 KOs) scored a ten round unanimous decision over José Benavídez Jr. (28-3-1, 19 KOs) in a non-title WBC special event on Saturday night's Benavidez-Andrade card at the Michelob ULTRA Arena at Mandalay Bay Resort and Casino in Las Vegas. Returning after nearly 2 1/2 years, Charlo was stronger than the aggressive Benavidez and won most of the rounds. Benavidez was wobbled in the tenth. Scores were 98-92, 99-91, 100-90.
Give props. He fought well. He knows how to fight.
Charlo did a good job moving, countering, and even leading in many rounds of the fight. Yes, he did well. However, I question if he can even stop Canelo who is much stronger than Benavidez Jr. Charlo will need to beat Canelo on points should they fight. I dont see a KO for Charlo against Canelo.
lol Canelo has never been knocked down let alone knocked out. Charbum absolutely has no chance of even hurting him. Charbum will be the one getting laid out if they fight.
Please nobody wants to see Charlo vs Canelo. The only fight for Canelo is Benavidez.
Benavidez vs Bivol is what we really want to see
Charlo very dominant, Jose put a valiant effort, but lacks fundamental
He should be ashamed he could not ko Benavides
Boxing should not let this fights go on
In the weigh in looks like over weight boxer is not a problem
But this like putting one live on risk
Charlo was too strong for Benavides
Can't say I'd be too proud beating a guy two weight classes below me. And he couldn't stop him? The commentators kept saying solid performance by Charlo and i get it .. he was out 40 months. But still, this was a super middle weight fighting a blown up welterweight. I guess that's what Benavidez gets for all the pre fight talk. I pick Plant and Morrell over Charlo.
Not to bad after almost three years without fighting but nowhere close to challenge any one of the big names at Super Middle. Plant, Mibilli, Morrel and Benavidez would smoke him.
This fight did not settle in my gut correctly because Charlo missed weight. Under such weight related circumstances, Benavidez hung in there with a solid chin. Charlo's punches were creative, and his jabs were mean.
Agree E man …Charlo had some good moments….but clearly that finisher that beast we are use to seeing .,.not there… hopefully it is rust…but …Charlo struggling with something else…can clearly see it…I hope that Charlo is "ok" outside the ring…
Yep, how good would charlo have been if he had of sweated off the extra 3-4 pounds and actually made weight ? Possibly a more even playing field for the smaller Benevidez Jr……
Hopefully charlo fights plant next
Not bad for charlo.good fight to get the rust out! Benavidez was talk,talk bullishht and no pop in his punches! Great sportsmanship on charlo at the post fight interview. Bobo gettn' KO by benavidez next fight! Its a total mismatch, bobo too weak for the hard punching destroyer in benavidez! Bobo's promoters don't realize the danger they put him for picking this fight. Benavidez by brutal KO of the year on the 8th or a "no-mas" call out!
Dominated a welter weight (blown up). He got rounds in and maintained composure surprisingly.
I'm at the fight and there are no ring girls! WTF!!!
Benavidez about to stop Boo-boo. One more round
Done.
It was expected! A bobo blow out! Benavidez is in onother level, and not the bums bobo is used to fight and strugled with when he was champion! The most "avoided" title just was too big for bobo!
I don't think it was right that Charlo be allowed to come in so heavy in violation of the contractual catch weight limit of 163. He likely was close to 170 when he stepped into the ring, more than 7-8 lbs heavier than Benavidez. He enjoyed a height advantage too. Totally unfair. Credit to Jose for putting up a valiant effort. Charlo couldn't knock him out either. I personally am not very impressed with Charlo. He wants the big money that fighting Canelo or David Benavidez would bring, but it's obvious that he would be no match for either. His more immediate goal should be to fight Plant, so he can save face and exact revenge for Plant slapping him. This is the reason that Plant slapped him too, to force him to choose Plant as an opponent with the title on the line.
Jose Benavides was out boxed. He did show he has a decent chin. Charlo didn't have enough punching power to stop Benavides. Charlo will not beat Alvarez.
Just wanted to note….Charlo …I am praying for you….you are a man before a fighter…In your corner in "life"….hang in there champ…
Charlo is done at top level. I think Plant beats him at 168 and benavidez would knock him out as quick as he did Andrade. If he has to fight Adames at the middleweight limit, then he loses that too.
Way to go Charlo!
ok, lets just hope that we dont now have
canelo-charlo. if so, another hard pass for me
Surprised he couldn't KO him. Jose Jr, a career Welterweight comes in at a catch weight of 163. Meanwhile Charlo, a natural Middleweight comes in 3.4# over at 166.4. So you had an overweight out of shape Welterweight fighting a Super Middleweight.

Session expired
Please log in again. The login page will open in a new tab. After logging in you can close it and return to this page.
What time is the Floyd Mayweather vs. John Gotti III fight tonight … – DAZN
Boxing legend Floyd Mayweather is back in the ring tonight for another exhibition fight as he prepares to face John Gotti III in Florida.
Mayweather has not had a professional fight since he ended his career on 50-0 following his huge event with Conor McGregor in 2017.
His most recent exhibition show was up against Aaron Chalmers in February 2023, in London.
Gotti last fought Albert Tulley at Rockin Fights 43 at the beginning of October last year, securing a decision victory in MMA, where he has a 5-1-0 record.
Here's all you need to know ahead of Mayweather vs. Gotti.
The event is set to get underway at 2 a.m. BST / 9 p.m. ET with the main event ringwalks scheduled for 4 a.m. BST / 11 p.m. ET. These timings could change due to the length of the undercard fights. 
The Zeus Network will be showing the event globally on PPV.
The fight will take place at FLA Live Arena, Florida, in the United States.
Top 12 best light flyweights in boxing: Rankings for 108lb weight … – Sporting News




Fans of the smaller weight divisions were treated to what was arguably the Upset of the Year when Adrian Curiel scored a brutal and sensational second-round knockout over the previously unbeaten Sivenathi Nontshinga at the weekend.
Curiel (24-4-1, 5 KOs) picked up the IBF light flyweight title and announced himself among the division elite. The sky's the limit for the Mexican star who will now be in the sights of unified titleholder Kenshiro Teraji, who hopes to become boxing's first-ever undisputed champion at this weight.
What's changed at light flyweight following the colossal upset?
The Sporting News recently gathered opinions from members of its combat team to produce a top 12 list at light flyweight:
MORE: Kenshiro Teraji and the road to undisputed
This Filipino-based fighter is still to mix with distinguished opposition, but he's unbeaten over the past five years and his career is heading in the right direction.
Magramo has prevailed in a trio of WBO domestic title fights over the past three years and he's due another step up in class. Once he takes that step, we'll be in a better position to predict his ceiling in this division.
Next Fight: TBA
Blink and you might miss this hard-hitting 23-year-old from the Philippines.
Five of Fajardo's 10 knockout wins have come in the first round and he's only seen the sixth round four times in his career. He lost his third professional fight, and a couple of draws suggest that his technical craft can't match his concussive hitting power. However, Fajardo is an authentic knockout artist and an exciting addition to the division.
Next Fight: TBA
MORE: SN's Top-12 list of pound-for-pound boxers

Another Filipino fighter, Suganob quickly brushed aside the learning curve fights and has been holding his own at the top level.
Despite losing his unbeaten record to talented IBF champ Sivenathi Nontshinga, the 26-year-old Suganob has shown promise. He earned his world title shot by winning back-to-back fights over unbeaten opponents in Andika D'Golden Boy and Mark Vicelles.
He recently bounced back from the Nontshinga setback by outpointing Ronald Chacon.
Next Fight: TBA
It's almost a tradition for Japanese fighters to hold lofty spots in the lower weight classes and the 2023 light flyweight division is no exception.
Iwata's lone defeat came at the hands of reigning WBO champion Jonathan Gonzalez. The 27-year-old pressure-puncher performed well in that fight and ultimately succumbed to the champion's class and experience. Undeterred, Iwata has bounced back with a pair of stoppage wins and he'll be looking for big fights.
Next Fight: TBA
Prior to suffering his first loss to Carlos Canizales, the only blemishes on Matellon's record were a pair of back-to-back draws in 2016 and 2017.
The Cuban boxer-puncher was competitive in spots against Canizales but he was deducted two points for headbutts and lost a technical decision when the fight was stopped. Losing this WBA eliminator blunted the 35-year-old's momentum and he doesn't have time on his side for a slow and deliberate rebuild.
Next Fight: TBA

Venezuela's Canizales is a former WBA regular champion and he's still in the world title picture right now.
A 2021 stoppage loss to Esteban Bermudez in a fight Canizales was winning cut deep. However, the 30-year-old has bounced back with four straight wins, including a stoppage triumph over Ganigan Lopez and a technician decision over Daniel Matellon.
Next fight: TBA
MORE: SN's Top-5 pound-for-pound boxers from Japan
The former WBO champ has posted solid results down the years, although he badly needs a standout win to prove his world-level status.
Soto surrendered his WBO title to Jonathan Gonzalez in 2021 and was then outpointed by ring-wise veteran Hekkie Budler in a close fight. In need of a warm-up bout, the Mexican star faced countryman Brian Mosinos last time out and was considered beyond lucky to receive a split decision victory.
Next Fight: TBA

While Yabuki became something of a Cinderella story thanks to his stunning 2021 upset triumph over Kenshiro Teraji, the Japanese puncher can definitely fight.
Teraji blasted him out in their rematch, but Yabuki has bounced back with stoppage wins over Thanongsak Simsri and Ronald Chacon. With a 93-percent knockout ratio, the ex-champ is a threat to any light flyweight he shares the ring with. If he can keep winning, then another world title shot is sure to come his way.
Next Fight: TBA
MORE: SN's Top-12 list of heavyweight boxers
The old warhorse of the division has no quit in him and yet another career resurgence following his recent loss to Teraji would not come as a shock.
Budler has been a professional for 16 years and has held world titles at both minimumweight and light flyweight. The amiable South African star has mixed with the best and owns wins over Ryoichi Taguchi and Elwin Soto.
While he's 35 years old, his fighting spirit is undeniable and the former champ's name recognition could secure him another big fight before he retires.
Next Fight: TBA
Nontshinga appeared to be the dark horse in this division until prohibitive underdog Adrian Curiel knocked him out with a single right-hand shot and relieved him of the IBF title.
The 24-year-old Nontshinga won the championship by outpointing Hector Flores in a classic encounter. He defended the title by posting a decision win over the underrated Regie Suganob before coming unstuck against Curiel.
Was this first defeat an aberration or has Nontshinga been found out?
Next Fight: TBA

Curiel didn't have much going for him heading into his first world title bout against the talented Sivenathi Nontshinga. There were no distinguished names on his record, and his knockout ratio (only 16 percent of his wins had come via stoppage) was hardly intimidating.
Bang!
After posting a solid first round against the IBF champion, Curiel closed out in the second with a single right hand to the jaw. It was an incredible finish and a surefire contender for both Knockout of the Year and Upset of the Year.
What did we miss? Well, Curiel is Mexican.
Next fight: TBA
This Puerto Rican southpaw has proven to be a gutsy and talented competitor since turning professional in 2011. Gonzalez's form was patchy during the embryonic stages of his career, but he stayed focused and his form gradually improved.
Following a seventh-round stoppage loss at the hands of Kosei Tanaka at flyweight, the 32-year-old Gonzalez dropped down to light flyweight. That proved to be a very wise decision, as "Bomba" claimed the WBO title at the expense of Elwin Soto before making two successful defences.
Next Fight: TBA

The cream of the crop at light flyweight, there's Teraji and then there's the rest.
While he might not have the crushing power of countryman Naoya Inoue, the 31-year-old Teraji can still crack with both hands and he has a wonderful skill set. The one blemish on his record – a stoppage loss to Masamichi Yabuki in 2021 – was down to a Covid-related hangover and avenged via a shuddering third-round knockout.
Teraji has already defeated the likes of Ganigan Lopez (twice), Milan Melindo, Hiroto Kyoguchi, and Budler. However, with the undisputed championship in his sights, the goal is to knock off rival champions Gonzalez and Nontshinga as quickly as possible.
Next Fight: TBA
Tom Gray is a deputy editor covering Combat Sports at The Sporting News.