The Hauser Report: Notes and Nuggets | Boxing News, articles … – The Sweet Science




Published
on
By
The Hauser Report: Boxing Notes and Nuggets
Larry Goldberg promoted his fifth club fight card at Sony Hall in Times Square on Thursday night. I viewed it through a different lens than I usually do because I had a new responsibility. Azad (a luxury watch manufacturer and one of the event sponsors) had donated a watch that was to be given to one of the fighters. I was tasked with choosing the recipient. I could use whatever criteria I thought was appropriate.
Let's take the bouts in order.
Bout #1: Raymond Cuadrado (7-0, 3 KOs) vs. Yeuri Andujar (5-5-1, 3 KOs 3 KOs by)
Andujar was winless in four fights dating back to 2019 and had been knocked out in three of those four bouts. He kept throwing punches but didn't know how to avoid them and fought as though moving his head after punching would be held against him. Blood flowed from his shattered nose from the second round on. But fighting against an opponent with far superior skills, he kept trying to win. There was nobility in Andujar's effort. He lost all four rounds on each judges' scorecard. But when it was over, Cuadrado knew he'd been in a fight.
Bout #2: Arnold Gonzalez (11-0, 6 KOs) vs. Alejandro Munera (8-7-4, 7 KOs, 4 KOs by)
Munera fought with an excess of caution until it occurred to him that Gonzalez wasn't as good as his record. Then he began throwing punches but lost every round.
Bout #3: Mathew Gonzalez (12-0-1, 8 KOs) vs. Terell Bostic (7-1, 1 KO)
This was the one fight on the card that shaped up as competitive. Gonzalez has been carefully matched throughout his career. But not even that had saved him in his most recent outing when he fought to a draw against Dakota Linger in a bout that saw Mathew lose form and fight down to Linger's level.
It's hard to find an entertaining match-up for Bostic because he has skills but he's a runner. Compounding the problem, Mathew followed Terrell around the ring rather than cutting the ring off. Bostic finally started fighting in round seven and won the last two stanzas. But it was too little too late. Terrell lost a 78-74, 77-75, 77-75 verdict in a fight he could have won and had no one to blame for the decision but himself.
Bout #4: Brian Ceballo (14-1, 7 KOs) vs. Mitch Louis-Charles (7-3-2, 4 KOs, 1 KO by)
Ceballo turned pro five years ago after a decorated amateur career and was considered a prospect. But he hasn't reached the level that was expected of him. If someone suggested in 2018 that, in 2023, Brian would be fighting on a Thursday-night club card against a guy from Canada who had seven wins in twelve outings, the suggestion would have been dismissed as folly. But there it was. Charles was a prohibitive underdog and lost every round.
Bout #5: Kurt Scoby (11-0, 9 KOs) vs. Hank Lundy (31-13, 14 KOs, 4 KOs by)
Scoby is in a stage of his career where his record is being built. Lundy has been reduced to opponent status and had lost five fights in a row since 2020. Scoby looked good. Lundy looked shot. KO 2.
So . . . Who got the Azad watch? First let's look at the evening as a whole.
Goldberg took a step back from his most recent fight card in that this one had only one match-up that figured to be competitive. And the fights ran true to form. The underdogs lost all twenty rounds in the four fights that shaped up as non-competitive. The A-side fighters sold tickets. But the evening was short in entertainment value.
I don't like fight cards that are almost exclusively A-side vs. B-side fights. And I didn't see the point in giving a watch to someone for beating up a hopelessly overmatched opponent. I decided to award the watch to the fighter who, in my view, got the most out of what he had and made the most impressive effort of the evening. I awarded the watch to Yeuri Andujar.
****
Let's tie up some loose ends from past happenings.
I didn't watch Canelo Alvarez's May 6 fight against John Ryder live. I followed round-by-round reports on ESPN.com and Boxing Scene while it was in progress and watched the bout on You Tube after it was over.
Round-by-round reports seldom merit comment. But ESPN.com caught my eye with the following entry: "Here come the ring walks! Crowd is going nuts in anticipation. First, the Jalisco national anthem, then the two national anthems, England's Here Comes The Queen, and Mexico's."
I didn't hear the anthems. But it seems more plausible to me that the crowd was serenaded with God Save the King.
Since May 6 was the day that Charles III was crowned King of England, I thought I'd make that correction.
****
It's only the end of June which is far too early to give out year-end awards. But at the moment, Conor Benn seems a lock to win the "John Lennon Award" for 2023.
Benn mounted an expensive legal assault after testing positive twice for Clomifene and has jumped from one attempted justification of his conduct to another. Eventually, the World Boxing Council accepted his excuse that he was an innocent victim of the "highly-elevated consumption of eggs." Further filings have built on this contention. But Victor Conte (one of the most knowledgeable people in the world when it comes to the use of illegal performance enhancing drugs in boxing) has shredded Benn's explanation.
 The John Lennon Award?
Check out the lyrics that Lennon wrote for I Am the Walrus – most notably, "Man, you've been a naughty boy . . . I am the egg man."
 ****
 The World Boxing Council likes to dispense championship belts in conjunction with all manner of events. That practice was on display yet again when Floyd Mayweather engaged in a June 11 exhibition against John Gotti III in Sunset, Florida.
WBC president Mauricio Sulaiman had announced that the sanctioning body would present Mayweather with a special "Juneteenth-themed" championship belt to commemorate the exhibition. The belt had the usual WBC championship-belt motif with images of broken chains, hands, and the word "Juneteenth" added. Speaking to TMZ, Sulaiman declared, "Juneteenth is a national holiday. And Floyd Mayweather is the best representative for success and glory through hard work and dedication. He make[s] life better for all every single day."
Then things hit a snag. The exhibition was scheduled for eight two-minute rounds. Security at ringside was lax. As the farce (and it was a farce) progressed, referee Kenny Bayless warned both participants multiple times for obscene trash-talking and roughhouse tactics. Finally, in round six, Bayless had seen enough and waved the exhibition off. At that point, Gotti attacked Mayweather with more intensity than he'd shown at any time earlier in the proceedings and an ugly brawl followed. Dozens of partisans stormed the ring and fights spread throughout the arena.
"We were going to present Floyd and other persons [with] the special honorary belt after the exhibition match," Sulaiman told The Sweet Science. "Unfortunately, everything was cancelled when the riot took place."
Now let's get real.
Gotti (who has limited boxing skills) was tabbed for the event because he's the grandson of former organized crime boss John Gotti. Mayweather's criminal record includes multiple convictions (and time in jail) for physically abusing women.
No one disputes the fact that Floyd was an exceptionally talented boxer. But Juneteenth celebrates a June 19, 1865, order that proclaimed freedom for slaves in Texas. A serial abuser of woman and a man whose fame is based on the fact that his grandfather was a well-known mob boss are poor symbols for that historic occasion.
Thomas Hauser's email address is thomashauserwriter@gmail.com. His most recent book – In the Inner Sanctum: Behind the Scenes at Big Fights – was published by the University of Arkansas Press. In 2004, the Boxing Writers Association of America honored Hauser with the Nat Fleischer Award for career excellence in boxing journalism. In 2019, Hauser was selected for boxing's highest honor – induction into the International Boxing Hall of Fame.

Thomas Hauser is the author of 52 books. In 2005, he was honored by the Boxing Writers Association of America, which bestowed the Nat Fleischer Award for career excellence in boxing journalism upon him. He was the first Internet writer ever to receive that award. In 2019, Hauser was chosen for boxing's highest honor: induction into the International Boxing Hall of Fame. Lennox Lewis has observed, "A hundred years from now, if people want to learn about boxing in this era, they'll read Thomas Hauser."
Archie Moore's Toledo Phase
Published
on
By
Archie Moore's Toledo Phase
The most attractive boxing card on this weekend's docket is being staged in Toledo, Ohio. Jared Anderson and Arslanbek Makhmudov, fast-rising heavyweight contenders with eye-popping knockout ratios, meet credible opponents in the featured bouts. ESPN will televise the Top Rank promotion.
The show will inevitably spawn references to the first big heavyweight fight in Toledo, the July 4, 1919 clash between Jack Dempsey and Jess Willard, the fountainhead of America's Golden Era of Sports. From the standpoint of historic importance, no other boxing event in Toledo has ever come close to matching it, but the city on the shores of Maumee Bay has served as the stomping ground for some colorful boxers including Archie Moore, the man widely considered the greatest of all the light heavyweight title-holders.
Moore's Toledo phase hasn't received much attention. That's understandable as there were so many phases to his remarkable 28-year career.
In a 1954 story for Sports Illustrated, Budd Schulberg found the perfect metaphor. He likened Moore to a tumbleweed.
Indeed, perhaps no other boxer in history drifted across more of the planet. Moore's peregrinations took him to 25 U.S. states plus the District of Columbia, and 12 foreign countries spread across four continents!
It seems fitting that Archie's final ring engagement came against a professional wrestler, Iron Mike DiBiase. Back in those days, long before cable television and flat screen TVs, there were more than a dozen influential wrestling promoters in America, each controlling a specific regional territory. Pro wrestlers hunkered down for a spell when they went to a new city. Eventually the local mat fans would tire of them and off they would go to a new territory. The female counterparts of the pro wrestlers were the bump-and-grind dancers that worked the burlesque circuit.
Archie Moore had much in common with those wrestlers. Early in his career, he had eight fights within a five-month span in San Diego. This was his first of several San Diego phases. The city eventually became his adopted home. St. Louis, where he spent his boyhood, and Baltimore also factored large in his "Mongoose" days before the prefix "Old" was attached to it. He bunched multiple fights inside tight windows in both places.
One of Moore's more interesting phases began in March of 1940. From his base in Sydney, he had seven fights in Australian rings over the next four months, each scheduled for 12 rounds. He would have another foreign phase in 1951. From his base in Buenos Aires, he had eight fights in nine weeks, seven in Argentina and the other in neighboring Uruguay.
Before leaving for South America, Moore had eight fights in Toledo, the first six in 1949.
These were his opponents, listed chronologically:
Jan. 10, 1949 – Alabama Kid – An old warhorse who had been around since 1928,  the Alabama Kid was born Clarence Reeves in Georgia. Moore knocked him out in the fourth round. They would fight again later that year in Columbus, Ohio, where the "Kid" then hung his hat and the result would be virtually identical (Moore KO 3).
Jan. 31, 1949 – Bob Satterfield – A fighter who would be remembered as a knockout artist with a glass jaw, Satterfield was credited with having knocked out 28 of his 35 opponents in pre-fight reports. Moore knocked him down four times before the fight was stopped in the third round.
April 11, 1949 – Jimmy Bivins – This was the fourth meeting of what would be a five-fight series. A future Hall of Famer whose best days were behind him, Bivins brutalized Moore in their first encounter in 1945, but Archie won the rest, stopping Bivins in the eighth round on this occasion. Unlike most of Moore's previous fights, this one achieved good national coverage. The Associated Press had a reporter and a photographer in attendance.
Oct. 4, 1949 – Bob Amos – A Detroiter whose once promising career was on the skids, Amos had gone 10 rounds with Moore in Washington DC the previous year, losing a wide decision. This fight was something of a carbon. "Most of the ringsiders were under the impression that Archie could have put Amos to sleep just about anytime he wanted," said a story in the Toledo Union Journal. Moore may have been saving himself for Phil Muscato. That fight, already signed, was only 20 days away.
Oct. 24, 1949 – Phil Muscato – Hailing from Buffalo where he had developed a strong following, Muscato owned two wins over Lee Savold, a future heavyweight title claimant, and two wins over Tiger Ted Lowry who would go on to fight Rocky Marciano twice, lasting the 10-round distance on both occasions.  Moore nearly had Muscato out in the fourth frame and knocked him down four times in the sixth before the match was halted.
Dec. 13. 1949 – Leonard Morrow – This would stand as Archie Moore's most satisfying triumph until he became a world title-holder. They had met the previous year in Oakland, Morrow's hometown, and Morrow, with only 15 fights under his belt, pulled a shocker, knocking out Archie in the opening round. That killed a match between Moore and light heavyweight title-holder Gus Lesnevich, a match that was close to being signed. The rematch, slated for 15 rounds, was all Moore from the opening bell. Morrow was taken from the ring unconscious after Archie knocked him through the ropes in the tenth round and was never the same fighter.
Jan. 31, 1950 – Bert Lytell – Moore and Lytell ran in the same circle, but only fought twice. Moore won a comfortable 10-round decision over Lytell in Baltimore in 1947. The rematch was closer but Moore prevailed.
March 13, 1951 – Abel Cestac – Moore had four intervening fights between Lytell and Cestac, including a fight in Panama. An Argentine who was recognized as the heavyweight champion of South America, Cestac outweighed Moore by 43 pounds but Archie, now in his mid-30's, was too fast for him and won a 10-round decision. They fought again three months later in Buenos Aires and Moore stopped him in nine.
—-
Archie Moore's Toledo phase rejuvenated his career. It came on the heels of a 1948 campaign pocked by four losses. However, the powers that be were in no mood to give the Old Mongoose a crack at the light heavyweight title. His second fight with Leonard Morrow was framed as an eliminator with the winner facing the newly crowned light heavyweight champion Joey Maxim, but Moore would have 25 more fights before he caught up with Maxim with whom he then shared the same manager in Doc Kearns (a story for another day).
During his light heavyweight title reign, which lasted nine years, Moore made frequent forays into the heavyweight division including title fights with Rocky Marciano and Floyd Patterson. After years of fighting for small purses – "moving around money" in the words of the great sportswriter Jimmy Cannon – Archie finally got to swim with the big fish.
Arne K. Lang's third boxing book, titled "George Dixon, Terry McGovern and the Culture of Boxing in America, 1890-1910," rolled off the press in September of last year. Published by McFarland, the book can be ordered directly from the publisher or via Amazon.

Published
on
By
"Sivenathi is supposed to beat Suganob," according to South African boxing kingpin Andile Sidinile. "Suganob has no power to scare off Sivenathi. He's just a good fighter."
This is as succinct a summary of this weekend's superb clash between elite 108lb contenders Sivenathi Nontshinga (11-0), out of South Africa, and Filipino Regie Suganob (13-0) as can be made. Nontshinga, ranked #5, has the makings of a special fighter. This Sunday, on home soil in East London, SA, he will make the first defence of a strap he won in the hostile territory of Mexico against Hector Flores Calixto, via decision. Aged just twenty-four, "The Special One" surprised in this fight, his coming of age, in choosing war over crafty boxing. Styled from the footwork up to a ramrod jab, he stopped throwing that punch in the fourth, a 2022 round of the year contender, arguably exceeded in some senses by the fifth before he and Calixto took turns brutalising each other in the sixth. Nontshinga received a complete gut, chin and stamina check all in one brutal Mexican evening.
Blood drenched even the ringside paperwork by the end of the fight; Nontshinga had his hand raised on a split. I saw the South African's superior work edging him home by a narrow margin over the Mexican's exhausted volume, but a card for Calixto would not have been a robbery. Right-handed quality in the early part of the fight is what brought him the decision on my card and perhaps he should be thankful to have been treated so fairly so far from home.
Pitching the Calixto win is key to understanding Nontshinga, who, after all, was taking a big step up in a difficult learning fight. It is a fact, however, that Calixto was stopped in ten by journeyman flyweight Mario Gutierrez earlier this year. It could be that Nontshinga brutalised the best out of Calixto, such was the violence of that encounter, but it could be that Nontshinga's punches have been overestimated by the weaker company he kept before that step up. The punches look the part, certainly, but power can be difficult to appraise without the competition to provide the test. Enter Regie Suganob, who is actively looking for a rerun of the Nontshinga-Calixto war.
Manager Floriezyl Podot has repeated often in the build-up that he hopes Nontshinga doesn't "run" while mysteriously referencing "two areas" they feel they can exploit. Goading the man who splattered ringsiders with Calixto's blood is a brave strategy indeed, but Suganob is not a man unaccustomed to overcoming the odds.
Suganob was little more than a handy undefeated local in his elimination match with more colourful countryman Mark Vicelles, but it was clear from the very first that this was going to be something different. Vicelles won that first round, but Suganob demonstrated three fascinating traits – a skill at countering the Vicelles jab; a nice counter left hook; and most of all, a watchfulness, a stillness and composure that allowed him to make use of these. This last should be noted because if Suganob is to defeat Nontshinga that patience in reading is going to be the key. It breathes life into a foraging, improvised style.
In the fourth round of his fight with Vicelles, Suganob added a straight-right to his hook, and countered his bigger opponent to the canvas at which point he assumed control of both the round and the fight. By the sixth the fight was a technical mismatch. Suganob was landing lead right hands before a left hook finally finishing the combination on another right-hand, outrageous combination-punching against a favoured fighter but simply put, Suganob saw and read his man before punishing him accordingly. It took half of the scheduled twelve for him to unpick the opposition's style and then correctly identify the punches that would most punish him. This is not the work of a 13-0 combat athlete.
But nor does Nontshinga box like an 11-0 combat athlete. There are, however, certain shortfalls in amongst his speed, fleet-footwork and apparent power that might make him vulnerable to an ad-libbed strategy built from a technically sure base. Nontshinga's jab is a hurtful, well-formed punch but he does not use it with the variety of a veteran. Nor does Suganob, but the important difference here is that Suganob specialises in countering this punch. Suganob is no more proven against quality opposition, or quality jabs, than Nontshinga, but Nontshinga lost his jab in the Calixto win, too. This may have been a matter of choice rather than a forced adaptation, but I do feel that Nontshinga's jab has been predictable and that might play right into the left-hook/straight right combination punching of Suganob. He might be able to time Nontshinga's speed, and his jab, both.
"I don't underestimate him, I respect him as a boxer," Nontshinga has said of Suganob. "But we're going to win this fight by knockout."
I liked reading this. This, in combination with Podot's jibe about Nontshinga "running" makes me wonder if perhaps we won't see a re-run of Nontshinga's last, thrilling fight, although it should be noted that brawling is not Suganob's primary style, either. It is more likely that Suganob wants Nontshinga attacking because it gives him more opportunities to score high-class counter combos for points. It would be unusual and delightful both if Suganob elected to plant his feet and duke it out but this fight doesn't need early drama to develop into a classic. Disputed early rounds could bait a war out of these two men in the second half of the fight and calling it would be difficult, not despite their inexperience but because of it. There is no way to know how Nontshinga would react to being out-sniped, and no way to know how Suganob would respond to the attack Nontshinga laid down upon Calixto.
In the final analysis, Nontshinga should probably be favoured but I think Suganob is a very live dog. Catching this one may be difficult. It is listed on the DAZN slate with first bell around 9 am ET/2 pm BST, but there remains some question about whether the streaming platform will pick it up at this late date. Personally, I am just happy to see it going ahead given how close it seemed to being cancelled. Already postponed once from mid-June, reportedly for South African broadcast purposes, it was alleged that the fight was in jeopardy due to money the IBF had not been paid by Rumble Africa Promotions who did work for Nontshinga. He has since signed with Matchroom.
If this one drops to politics it will be the third such fight to evaporate this year already, and a tragedy. I hesitate to suggest this will be another fight of the year contender, but it is also true that I slept on Nontshinga-Calixto. Whether on DAZN or another platform –  and there are usually late carriers for these more minor title fights — this one will be worth tracking down.
Published
on
By
This coming Fourth of July marks the 100th anniversary of one of the oddest promotions in boxing history, the heavyweight championship fight between Jack Dempsey and Tommy Gibbons in remote Shelby, Montana. TSS special correspondent Rich Blake, an authority on prizefighting during the so-called Golden Age of Sports, looks back at that bizarre event.
Around midnight one evening in mid-May of 1923, the 20th Century Limited, crown jewel of American passenger rail travel, came streaking through central New York's Mohawk Valley en route to Chicago.
Riding in a luxury Pullman car was Jack "Doc" Kearns, a focal point of the sporting world as he attempted to pull off one of the most outlandish sporting schemes ever conceived. A raconteur in a flashy suit, Kearns was the manager of Jack Dempsey, the world heavyweight champion. Throughout that night, the 40-year-old Kearns played cards with scoop-hungry scribes and an old friend, Benny Leonard, then reigning lightweight champion.
Before climbing aboard, Kearns reportedly had arranged for one final meeting with the fight game's foremost promoter, George "Tex" Rickard, who not only ran Madison Square Garden but also had wangled permission to stage outdoor bouts that summer at the newly opened, 58,000-seat Yankee Stadium.
Garrulous, manipulative, Kearns was sticking it to Rickard by way of an ambitious plot to circumvent the boxing world's Mecca. Kearns had arranged to stage Dempsey's next fight – a July 4th championship extravaganza against Tommy Gibbons – in the middle of nowhere. A 34-year-old light heavyweight from the Minneapolis-St. Paul area, Gibbons was known for his speed and clever tactics.
Rickard didn't flinch. At age 53, the former gold prospector and casino operator was under siege by headline writers, not to mention state boxing authorities, over a string of sensational scandals, including ticket gouging allegations.
Nevertheless, Rickard was quietly reasserting control over the lease on the Garden (the property was owned by the New York Life Insurance Company) and holding sway over issues such as who should challenge Dempsey for the title, where would that fight be held, and how much the least expensive tickets would cost?
Kearns connivingly outmuscled Rickard (and his hefty cut of the gate) earlier that spring by striking a deal with a group of Shelby, Montana, oil field operators reimagining their cowpoke settlement near the Canadian border as the host of a world-class sporting event.
Kearns insisted on a $300,000 payday, extracting one-third of it up front. Shelby's residents tapped all possible resources to get the money together and started scrambling to build a giant wooden stadium. All the while, Kearns was still playing the angles.
So, was Rickard willing to match the Shelby offer?
"I wouldn't pay a nickel to see Tommy Gibbons," Rickard reportedly said, turning Kearns down.
What eventually played out in remote northwest Montana in that rollicking summer of '23 remains the stuff of cultural lore, a glorious fiasco that is still talked- about one century later.
***
The decade that roared, as of the midpoint of 1923, was not yet in full-throated form, at least in terms of sheer, unbridled jazz-and-hooch-infused zeitgeist energy.
Dempsey's exploits dominated headlines. But boxing was teeming with colorful characters and contenders. Talented fighters in every weight class made a living competing in rings found in virtually every city in every state.
To rediscover this specific, fascinating slice of a so-called "golden age" is both an intoxicating thrill-ride and a sobering wake-up call. Boxing dominated society as it never had before, and reflected it, for better and for worse.
An endlessly rich tapestry of pugilistic storylines filled the pages of magazines such as The Police Gazette, The Ring and The Boxing Blade. Two dozen or more sportswriters were on the beat – just in New York City, where every neighborhood had its champion. It was a flag of ethnic pride, as Jack Newfield once explained to PBS. "Rivalries were built on ethnic tension," he said. "You could get ten thousand people for a fight between two neighborhood heroes."
Boxing flourished almost everywhere. In New York City, each of the five boroughs had multiple boxing clubs. A regional city, such as Buffalo, N.Y., supported two major boxing events per week at the 10,000-seat Broadway Auditorium. Fighters could earn a decent living in the middle-tier markets all while hoping to catch the attention of some manager or matchmaker in the Big Town. A Boxing Blade issue from around this time chronicled a week's worth of noteworthy fights in New York and Boston, Detroit and Philadelphia, Buffalo and Milwaukee, as well as in Erie, Pa., Sandusky, Ohio, Newark, N.J., Staten Island, N.Y., Flint, Mich., Wichita, Kan., Springfield, Ill. and Cedar Rapids, Iowa, just to list a small sample of locales during one seven-day stretch.
Summertime, the outdoor season – that's when the brightest stars came out to shine. Fights were staged at ballparks, velodromes and seaside resorts.
After boxing in New York was re-legalized under the liberal Walker Law in 1920, it exploded into a full-fledged industry with its informal headquarters at Madison Square Garden, operated by Rickard. The bulk of his public relations wound up essentially outsourced to a murderers row of syndicated sportswriters – Damon Runyon and Grantland Rice, to name two of the most iconic.
Stephen Dubner, co-author of the popular "Freakonomics" book series, unearthed research by the American Society of Newspaper Editors that showed one out of four readers bought a paper for the sports page. The editors voted Dempsey the "greatest stimulation to circulation in twenty years."
***
Of course, no retrospective on boxing circa the summer of '23 can sidestep a fight that should have been – but never was.
Dempsey always insisted he was open to taking on black opponents. The leading heavyweight challenger heading into that summer of '23 was 34-year-old Harry Wills, dubbed the world's "colored" heavyweight champion. As such, Wills proved a reliable draw among white audiences, provided he took on a black challenger.
Wills was a burly ex-dockworker from New Orleans, transplanted from the Big Easy to the Big Apple. He was growing old waiting for authorities to force Dempsey to accept his challenge. Frustrated, his career going in circles (he fought Sam Langford at least 17 times), Wills would eventually align himself with a couple of Irishmen. He sought out a new manager, Paddy Mullins, a Bowery bar owner who grew up staging backroom fights, and who was old friends with a Queens promoter named Simon Flaherty who was keen to build a stadium suitable for putting on Dempsey-Wills.
The stadium, situated across from Manhattan in Long Island City, got built, got shut down by the fire department, was refurbished and then re-opened. But Wills' title shot never happened.
Historians have blamed public sentiment alongside powerful figures such as Rickard (who once supposedly, infamously, told one financial backer the title would be worthless if a black man ever won it) and William Muldoon, the head of the New York Boxing Commission, an avowed opponent of interracial matches in his younger days.
(In Edward Van Every's biography of Muldoon, "The Solid Man of Sport," there's a reference — repeated in Roger Kahn's biography of Dempsey, "A Flame of Pure Fire" — to a Dempsey-Wills championship match supposedly, at least momentarily, having been made by Rickard who penciled in the Polo Grounds, a sporting coliseum near Yankee Stadium, as a possible location. But the white establishment of 1923 so loathed the thought of a black champion that the idea was quashed. And while the Muldoon-led boxing governing body at one point publicly demanded Dempsey sign papers to fight Wills or forfeit his crown — curiously flouting formal and informal rules forbidding mixed-race bouts — there were also reports that, concurrently, behind the scenes, Albany politicians pressured Muldoon and Rickard to scrap the idea.)
Additionally, Montreal was also considered as a location until, per Van Every, Her Majesty's government quietly intervened.
Wills had defended what sports pages called his colored heavyweight championship in the fall of '22 against Clem Johnson at Madison Square Garden (then located on Twenty-Second Street). Wills knocked him out in front of 10,000 fans. Sportswriters were divided on the top contender's performance. "The giant New Orleans black challenger for the world's heavyweight boxing title, held by Jack Dempsey, last night battered his way to victory," the New York Times said.
"That dismal exhibition put up by Harry Wills against Clem Johnson in the Garden may have been the one thing needed to make a Dempsey-Wills bout possible," the New York Sun said. "Jack Kearns has been telling the boys that Wills has gone back so far that he is not one-fourth as good as he was a few years ago."
Kearns may have been right, the newspaper added. "But it is possible that he does not pay as much attention to the fact that Wills did not train very seriously for the Johnson affair. With two or three months of real training under his belt, Harry may prove to be a different sort of a fighter."
So, sportswriters of the day wanted to see Dempsey-Wills and treated "The Black Panther" as a legitimate challenger, stoking curiosity in a bout supposedly the public did not want to see.
As Boxing Scene once put it, citing historian Kevin Smith, Wills' primary asset was his strength.
"He could move other men around the ring as he pleased," Smith said.
Considered a top contender for almost seven years, Wills never could fathom or accept being denied a title shot.
"No number one contender could be ignored for that long today," Smith said. "But the racial tones of that time simply would not allow such a bout."
Kahn would write that with Rickard, "the issue was money, not prejudice. Or, anyway, money before prejudice."
***
The scuttling of the Dempsey-Wills match, were it ever really in the cards to begin with, opened the door to a curious chain of events that led to one of the craziest boxing tales of all time.
Loy J. Molumby, an ex-fighter pilot and the cowboy-boots-wearing head of Montana's American Legion, tracked down Dempsey's manager in a New York hotel, after being stood-up in Chicago. Molumby carried with him a satchel filled with $100,000. It was the one-third (of the total guaranteed $300,000) that Kearns had demanded up front before he would even discuss such a preposterous concept.
Shelby's residents tapped all possible resources to get the money together and started scrambling to make arrangements. Roads needed paving. The little railroad depot needed to be expanded. A local lumberyard sprang for $80,000 worth of pine boards for the hasty construction of an open-air octagon.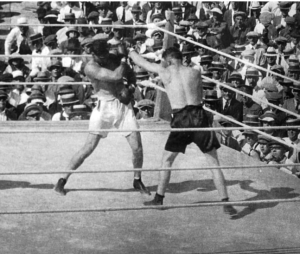 In 1923, Shelby was a community with "visions – delusions, as it turned out – of boom-town grandeur," said Jeff Welsch, a Montana sportswriter. Three years earlier, according to the decadal census, fewer than 600 people lived there.
Did we mention there were no paved roads?
An oil strike on a nearby ranch the previous year sparked fantasies of Shelby as the "Tulsa of the West," according to Welsch.
After giving Rickard a chance to match the Shelby offer, Kearns headed off to rendezvous with Dempsey who was doing some fly fishing on the Missouri River.
The plan was to meet at a training camp being established on the grounds of an old roadhouse on the outskirts of Great Falls, Montana, some 90 miles south of the proposed site of the Independence Day spectacle. The Dempsey faction – Jack's brother, Johnny, the trainers, and a bull terrier mascot – were preparing the camp. Meanwhile, Kearns put together a deep stable of sparring partners, 17 and counting. Kearns wanted speedy fighters to get the champ prepared for Gibbons, known for being fast with his punches, but Kearns was also widening his talent stable. Red Carr, manager of then-19-year-old Jimmy Slattery, a future light heavyweight champion, would be enticed by an offer from Kearns to send his then-ripening speed boy out to Great Falls, but Red, after giving his blessing, reversed course and nixed the idea.
As for the July 4th heavyweight championship fight staged in the tiny town of Shelby, Montana, it would rank among the most monumental fiascos in the history of sports.
Molumby paid up the second $100,000 installment two months before the fight.
With a week to go, the mayor of Shelby visited Kearns in Great Falls. They only had $1,600 of the final payment. Might he consider accepting 50,000 sheep instead of hard cash?
Dempsey, listless in training, beat, but never dominated Gibbons in a tedious affair witnessed by fewer than 20,000 spectators, half of whom crashed the gates.
The temperature at ringside was close to 100 degrees.
The big takeaway: Dempsey, two years idle from ring activities, failed to knock Gibbons out.
Dempsey and Kearns, along with an armed security detail, fled the scene as fast as they could by private train.
Kearns got out of town with the gate receipts. The banks of Shelby, which had underwritten the event, went bankrupt.
As for Tommy Gibbons, who wound up with nothing, he went on to become the long-serving sheriff of Minnesota's Ramsey County, home to the State Capitol of St. Paul. As for Dempsey, he would soon journey back east to begin training for his next opponent Luis Angel Firpo, but that's a story for another day.
Editor's postscript: The population of Shelby is now a shade over 3,000. The locals no longer consider the fight a civic embarrassment, but rather as something to commemorate. This year, the July 4 festivities will be wrapped around the centennial of Shelby's "Fight of the Century." Months of planning have gone into making this Shelby's grandest Fourth of July ever. Contact the Shelby Area Chamber of Commerce (406-434-7184) for more information.
Rich Blake is a journalist and the author of four non-fiction books, including 2015's "Slats: The Legend & Life of Jimmy Slattery."

The Follies of Gervonta Davis: They Gave Him the Key to the City and Now He's in the Slammer
Light Heavyweights on Display as 'Sho Box' Returns to Turning Stone
Adrien Broner Returns to the Ring with an Attorney in the Opposite Corner
Teofimo Lopez Upsets Josh Taylor at Madison Square Garden
Arrests Made in the 2015 Theft of Championship Belts, but There is Sad News
Bazinyan Overcomes Adversity; Skirts by Macias in Montreal
Munguia Nips Derevyanchenko in a Fierce Battle at Ontario
Avila Perspective, Chap. 239: Fernando Vargas Jr. at the Pechanga Casino and More
Powered by IBofP © 2021 thesweetscience.com All rights reserved.
Last Exit 2 Congressional Fight Club: Episode 2 – bunow.com




BUnow.com
BUnow.com
BUnow.com
This week on Last Exit. President XI brings pandas back to the US, war crimes are happening, Congress fights without a cage, and Mike Johnson is a broke boy with no clout.
comments
Chicago boxer Kenneth Sims Jr. at No. 2 world ranking – CBS News




Watch CBS News
By Jori Parys
/ CBS Chicago
CHICAGO (CBS) — Englewood native Kenneth Sims Jr. is making noise in pro boxing.
His latest win last month was his seventh straight, and a WBA super lightweight title eliminator. But as CBS 2's Jori Parys reported Monday, Sims has fought through obstacles to get where he is – including managing sickle cell.
Sims put on a pair of boxing gloves for the first time at 8 years old.
"My dad forced me to box – and I hated it," Sims said.
But the young Sims was a natural.
"He picked up things so fast that it was like, 'Oh, show him this – he has it," said Sims' dad, Kenneth Sims Sr.
"He was like, 'When you learn how to it, you can quit,'" said Sims Jr. "By that point, I didn't want to quit."
Sims has fought around the world as a member of the USA Boxing national team, and turned pro in 2014.
He rattled off a 2021 record with seven knockouts since.
But Sims' latest win raised eyebrows. A 12-round bout against Batyr Akhmedov being ended by majority decision came as no surprise to Sims.
"I seen all the tweets people talk about me seen article people talk about me," said Sims. "So it was like satisfying to prove them wrong – and satisfying prove people that believed in me right."
What did Sims prove to himself in that fight?
"Nothing. Nothing," he said. "I just did what I knew I could do."
Sims hasn't lost since a fight since 2018. That was when he noticed something felt off.
"All my energy just went away, and I was just like this – kind of like a zombie before the fight," said Sims.
Sims was dealing with the side effects of sickle cell – a disease that affects red blood cells' shape and ability to carry oxygen.
"The first thing they tell you about it is to be careful of strenuous work – so that's his life," said Sims' fiancée, Jailyn Brown. "He has to be sure that he's taking vitamins; be sure that he's very hydrated."
"My mind's saying do stuff in the ring, but I can't move, really – my body won't let me do it. It was a big obstacle for me to overcome," Sims said. "After I lost, my team, my uncle, my dad – we all was doing research. Went to the doctor got bloodwork stuff done, and I hired nutritionists and stuff. Since I've been working with them, I've been feeling great."
Sims ascension to No. 2 in WBA rankings hasn't come without its challenges but all have led to the present point – preparing with hopes for a world title shot.
"This is where you're supposed to be. I've always said that," said Sims Sr. "The community we come in you have to figure out how to get through things and that's always what I've preached to him."
Sims Jr. – a boxer known as "Bossman" – is a true family man with kids of his own, and credits his family as his inspiration. He said it means a lot to be from Chicago, and hopes to one day bring a world title fight to his home city.
Until then, the pro boxer from Englewood will keep working to make his dreams a reality.
"Growing up, I used to watch showtime championship boxing," said Sims. "Now I'm on it."
Three fights ago, sims wasn't ranked. Now he's No. 2 in world, and will get the first shot to challenge for a world title.
First published on June 19, 2023 / 4:58 PM CDT
© 2023 CBS Broadcasting Inc. All Rights Reserved.
©2023 CBS Broadcasting Inc. All Rights Reserved.
Bar owner among 2 killed after fight leads to shooting outside Sacramento County bar – CBS News




Watch CBS News
By Brandon Downs, Cecilio Padilla
/ CBS Sacramento
SACRAMENTO COUNTY – Two men died after they were shot outside of a bar in Sacramento County early Sunday morning, the Sacramento County Sheriff's Office said.
Deputies responded to Sacto By Night at 7121 Governors Circle at about 1:45 a.m.
A group of people who were leaving the bar got into a fight outside, leading to a shooting, deputies said.
The victims, who were two men, died at the scene, deputies said. One of them was the owner of the bar.
Investigators with the sheriff's office believe a group of gang members who initially refused to leave the nightclub at closing is at the center of the incident. Those gang members apparently got involved in a fight in the parking lot, investigators said, with the suspected shooter being one of those gang members.
Witnesses described a white vehicle that took off from the scene. Deputies said the CHP located a vehicle matching the description and detained four people from that vehicle.
The people detained have since been identified as being allegedly involved in the shooting. Several guns have been recovered.
According to the sheriff's office, the names of the suspects will be released once homicide and related charges are filed.
Brandon comes to CBS13 from Action News Now (KHSL/KNVN) in Chico where he spent two years as the Digital Content Manager.
First published on November 26, 2023 / 3:05 PM PST
© 2023 CBS Broadcasting Inc. All Rights Reserved.
©2023 CBS Broadcasting Inc. All Rights Reserved.