The Hauser Report: Boxing Notes and Nuggets | Boxing News, articles – The Sweet Science




Published
on
By
The Hauser Report: Boxing Notes and Nuggets
Larry Goldberg promoted his fifth club fight card at Sony Hall in Times Square on Thursday night. I viewed it through a different lens than I usually do because I had a new responsibility. Azad (a luxury watch manufacturer and one of the event sponsors) had donated a watch that was to be given to one of the fighters. I was tasked with choosing the recipient. I could use whatever criteria I thought was appropriate.
Let's take the bouts in order.
Bout #1: Raymond Cuadrado (7-0, 3 KOs) vs. Yeuri Andujar (5-5-1, 3 KOs 3 KOs by)
Andujar was winless in four fights dating back to 2019 and had been knocked out in three of those four bouts. He kept throwing punches but didn't know how to avoid them and fought as though moving his head after punching would be held against him. Blood flowed from his shattered nose from the second round on. But fighting against an opponent with far superior skills, he kept trying to win. There was nobility in Andujar's effort. He lost all four rounds on each judges' scorecard. But when it was over, Cuadrado knew he'd been in a fight.
Bout #2: Arnold Gonzalez (11-0, 6 KOs) vs. Alejandro Munera (8-7-4, 7 KOs, 4 KOs by)
Munera fought with an excess of caution until it occurred to him that Gonzalez wasn't as good as his record. Then he began throwing punches but lost every round.
Bout #3: Mathew Gonzalez (12-0-1, 8 KOs) vs. Terell Bostic (7-1, 1 KO)
This was the one fight on the card that shaped up as competitive. Gonzalez has been carefully matched throughout his career. But not even that had saved him in his most recent outing when he fought to a draw against Dakota Linger in a bout that saw Mathew lose form and fight down to Linger's level.
It's hard to find an entertaining match-up for Bostic because he has skills but he's a runner. Compounding the problem, Mathew followed Terrell around the ring rather than cutting the ring off. Bostic finally started fighting in round seven and won the last two stanzas. But it was too little too late. Terrell lost a 78-74, 77-75, 77-75 verdict in a fight he could have won and had no one to blame for the decision but himself.
Bout #4: Brian Ceballo (14-1, 7 KOs) vs. Mitch Louis-Charles (7-3-2, 4 KOs, 1 KO by)
Ceballo turned pro five years ago after a decorated amateur career and was considered a prospect. But he hasn't reached the level that was expected of him. If someone suggested in 2018 that, in 2023, Brian would be fighting on a Thursday-night club card against a guy from Canada who had seven wins in twelve outings, the suggestion would have been dismissed as folly. But there it was. Charles was a prohibitive underdog and lost every round.
Bout #5: Kurt Scoby (11-0, 9 KOs) vs. Hank Lundy (31-13, 14 KOs, 4 KOs by)
Scoby is in a stage of his career where his record is being built. Lundy has been reduced to opponent status and had lost five fights in a row since 2020. Scoby looked good. Lundy looked shot. KO 2.
So . . . Who got the Azad watch? First let's look at the evening as a whole.
Goldberg took a step back from his most recent fight card in that this one had only one match-up that figured to be competitive. And the fights ran true to form. The underdogs lost all twenty rounds in the four fights that shaped up as non-competitive. The A-side fighters sold tickets. But the evening was short in entertainment value.
I don't like fight cards that are almost exclusively A-side vs. B-side fights. And I didn't see the point in giving a watch to someone for beating up a hopelessly overmatched opponent. I decided to award the watch to the fighter who, in my view, got the most out of what he had and made the most impressive effort of the evening. I awarded the watch to Yeuri Andujar.
****
Let's tie up some loose ends from past happenings.
I didn't watch Canelo Alvarez's May 6 fight against John Ryder live. I followed round-by-round reports on ESPN.com and Boxing Scene while it was in progress and watched the bout on You Tube after it was over.
Round-by-round reports seldom merit comment. But ESPN.com caught my eye with the following entry: "Here come the ring walks! Crowd is going nuts in anticipation. First, the Jalisco national anthem, then the two national anthems, England's Here Comes The Queen, and Mexico's."
I didn't hear the anthems. But it seems more plausible to me that the crowd was serenaded with God Save the King.
Since May 6 was the day that Charles III was crowned King of England, I thought I'd make that correction.
****
It's only the end of June which is far too early to give out year-end awards. But at the moment, Conor Benn seems a lock to win the "John Lennon Award" for 2023.
Benn mounted an expensive legal assault after testing positive twice for Clomifene and has jumped from one attempted justification of his conduct to another. Eventually, the World Boxing Council accepted his excuse that he was an innocent victim of the "highly-elevated consumption of eggs." Further filings have built on this contention. But Victor Conte (one of the most knowledgeable people in the world when it comes to the use of illegal performance enhancing drugs in boxing) has shredded Benn's explanation.
 The John Lennon Award?
Check out the lyrics that Lennon wrote for I Am the Walrus – most notably, "Man, you've been a naughty boy . . . I am the egg man."
 ****
 The World Boxing Council likes to dispense championship belts in conjunction with all manner of events. That practice was on display yet again when Floyd Mayweather engaged in a June 11 exhibition against John Gotti III in Sunset, Florida.
WBC president Mauricio Sulaiman had announced that the sanctioning body would present Mayweather with a special "Juneteenth-themed" championship belt to commemorate the exhibition. The belt had the usual WBC championship-belt motif with images of broken chains, hands, and the word "Juneteenth" added. Speaking to TMZ, Sulaiman declared, "Juneteenth is a national holiday. And Floyd Mayweather is the best representative for success and glory through hard work and dedication. He make[s] life better for all every single day."
Then things hit a snag. The exhibition was scheduled for eight two-minute rounds. Security at ringside was lax. As the farce (and it was a farce) progressed, referee Kenny Bayless warned both participants multiple times for obscene trash-talking and roughhouse tactics. Finally, in round six, Bayless had seen enough and waved the exhibition off. At that point, Gotti attacked Mayweather with more intensity than he'd shown at any time earlier in the proceedings and an ugly brawl followed. Dozens of partisans stormed the ring and fights spread throughout the arena.
"We were going to present Floyd and other persons [with] the special honorary belt after the exhibition match," Sulaiman told The Sweet Science. "Unfortunately, everything was cancelled when the riot took place."
Now let's get real.
Gotti (who has limited boxing skills) was tabbed for the event because he's the grandson of former organized crime boss John Gotti. Mayweather's criminal record includes multiple convictions (and time in jail) for physically abusing women.
No one disputes the fact that Floyd was an exceptionally talented boxer. But Juneteenth celebrates a June 19, 1865, order that proclaimed freedom for slaves in Texas. A serial abuser of woman and a man whose fame is based on the fact that his grandfather was a well-known mob boss are poor symbols for that historic occasion.
Thomas Hauser's email address is thomashauserwriter@gmail.com. His most recent book – In the Inner Sanctum: Behind the Scenes at Big Fights – was published by the University of Arkansas Press. In 2004, the Boxing Writers Association of America honored Hauser with the Nat Fleischer Award for career excellence in boxing journalism. In 2019, Hauser was selected for boxing's highest honor – induction into the International Boxing Hall of Fame.

Thomas Hauser is the author of 52 books. In 2005, he was honored by the Boxing Writers Association of America, which bestowed the Nat Fleischer Award for career excellence in boxing journalism upon him. He was the first Internet writer ever to receive that award. In 2019, Hauser was chosen for boxing's highest honor: induction into the International Boxing Hall of Fame. Lennox Lewis has observed, "A hundred years from now, if people want to learn about boxing in this era, they'll read Thomas Hauser."
Avila Perspective, Chap. 242: The Journey of Joshua Franco
Archie Moore's Toledo Phase
Published
on
By
World champion Joshua Franco announced his retirement after eight years of trading blows with some of the best smaller weight fighters in the world.
It was a surprise, but few questioned his decision.
"I've been going through a lot of mental problems that I was doing my best to control," said Franco. "I never talked about it publicly."
He is 27 years old.
Ever since Franco arrived on the professional scene back in 2015, the prizefighter known as "The Professor" displayed an uncanny knack for beating the opposition. Whether they were stronger or faster or bigger they could never match that big brain of his.
Franco knew what prizefighting is all about.
When Franco arrived in Southern California after signing with Robert Garcia eight years ago, he and several others arrived from Texas like fresh boots ready to go to war. Franco, Hector Tanajara and later Vergil Ortiz arrived to form a Texas club in Riverside, California. That's where Robert Garcia Boxing Academy is located.
Sparring was fierce as the new recruits would exchange blows and learn from Robert Garcia and his son and others including Mikey Garcia, one of the best fighters in any era. Their sessions included outsiders like Ronny Rios and many others.
When I would ask the young fighters who is the best, they would point to Franco. When I would ask Robert Garcia, he would point to Franco.
Golden Boy Promotions signed Franco and the first time Franco fought in the prize ring was at the beautiful Belasco Theater in downtown Los Angeles. He won by split decision. It was obvious that one judge mixed up the name. He gave the other fighter every round.
Franco fought at Belasco eight times in three years. The small venue that holds maybe 1,000 people was perfect for fight fans to see the young talented boxer from San Antonio. Though he was never a big puncher, he stayed in the pocket and used his skills to outwork whoever was in front of him.
His main asset was always that brain. He seemed to be dissecting his foe bit by bit. Once he found a weakness it was over. And foes with big power discovered that even when a powerful blow connected, the San Antonio fighter rarely blinked.
Prizefighting is all about entertaining. Fans want knockouts, blood and guts and excitement. They also want to see fighters with talent go up the rungs facing better and better talent. Franco knew this.
When asked if he would face a hotshot fighter from Colombia he said yes.
Colombia's Negrete
Oscar "El Jaguar" Negrete had speed, skills and a lot of charisma. Fans liked the Colombian fighter's style and willingness to trade with anyone. When an opening to fight Rey Vargas for a world title came up, he jumped at it. Though he lost by decision he went the distance.
Golden Boy matched Negrete with Franco at the OC Hangar on October 2018, and fans that had watched both fighters at Belasco Theater and Fantasy Springs Casino, rubbed their hands with glee in anticipation. They were not disappointed.
Pitting Franco and Negrete together was like tossing a cigarette lighter into a tumbler filled with nitroglycerine.
The OC Hangar has always been a spot where promoter Roy Englebrecht has staged spectacular monthly fights. On this occasion, Franco and Negrete set the bar to its highest level with rousing levels of punches.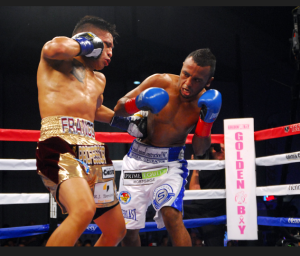 For 10 rounds the two bantamweights exchanged lightning blows that connected with booms and each time one landed, the other fighter would respond immediately. They tried punches to the body and blows to the head. Both looking for weaknesses in the other's game.
Just when you thought one fighter had an advantage and was about to close the show, the other would rally with even more vigor and the crowd would go crazy.
When Franco accepted the fight, he was not considered the favorite, especially with Negrete already competing for a world title. But that night Franco let the world know he was ready for world class competition.
After 10 rounds the fight was ruled a split draw. Fans did not complain and the media nodded their heads in agreement. It was just too close to declare a winner.
It was so close they agreed to do it again six months later at Fantasy Springs Casino in Indio. Both felt they won the first confrontation and were vocal about settling it in the ring. On April 2019, they went at it again but this time for the NABF title.
Just like the first fight both erupted on each other like two pit bulls clashing for one bowl of food. It was explosive and there were no surprises. One change in tactics seemed to be Franco targeting the body more. It seemed to slow down Negrete but not by much.
After 10 rounds Franco was declared the winner by split decision.
Once again it was close and once again Golden Boy Promotions decided to match them up, but this time in Texas. As in their first two clashes, the third encounter was razor close and this time another split draw.
After 30 rounds of tit-for-tat explosive action, it was decided to move on.
Pandemic
When the coronavirus struck the USA it was a death blow to all spectator sports. The world stayed inside their homes and restaurants and other forms of entertainment were shut down. Some for good.
Combat sports found a way to circumvent the spreading Covid-19 virus by testing and not allowing the regular public to attend the fights. Through television and other streaming entities, the world of boxing returned in late spring.
Though Franco was contracted to Golden Boy Promotions, he was allowed to fight on a Top Rank card staged in Las Vegas on June 23, 2020. His opponent was Australia's Andrew Moloney the WBA super flyweight titlist.
No fans were in attendance when Franco dropped down to the 115-pound weight limit to face the rugged Aussie at the MGM Bubble. The fight was shown on ESPN and they saw what only fans on the West Coast had seen. Franco knows how to fight.
It was a strange situation watching a championship fight with no fans to cheer. Every blow and grunt was picked up by the microphones. Franco was able to display his boxing mastery in the ring that day. He had an answer for every puzzle and more.
In the 11th round Franco connected and Moloney went down. That proved the difference in the fight as Franco won by close scores of 114-113 twice and 115-112. He captured the WBC super flyweight world title.
They would fight two more times and Franco proved two more times that professional boxing has another level that separates champions from other champions. That mental edge of knowing how to win a fight when knockouts are not available.
After a clash of heads ended their second fight in a no-decision, Franco won the third fight by unanimous decision and moved on. Sadly, the pandemic did not allow fans to enjoy the classic confrontations but last year most of the world opened up.
Unification
Last December, WBA titlist Franco eagerly agreed to face WBO super flyweight titlist Kazuto Ioka in a unification match in Japan.
Franco was eager to fight in front of Japan's eager boxing fans and face four-division champion Ioka.
The Texan was eager for the challenge and proved it with 12 rounds of back-and-forth ferocity that saw two judges score it dead even and one favor Franco. The match was declared a majority draw and both kept their titles.
Both champions agreed to a rematch and last weekend on June 24, the two met in Japan once again. But this time, Franco could not make the 115-pound weight limit. The fight did proceed but the Texan was unable to keep his title regardless of the outcome.
Franco did not win and was not the same as in their first encounter. Ioka won by unanimous decision and added the WBA title to his collection. The Texan announced his retirement.
"Last night in Tokyo, Japan was officially my last fight. It was a tough week for me and I didn't get the result I wanted but I leave this sport knowing I gave it everything I had," said Franco via social media.
Though still in his 20s, he leaves a solid legacy and his brother Jesse "Bam" Rodriguez remains in the game.
Thanks for the exciting ride, Professor.
Manchester Fights
Undisputed super middleweight world champion Franchon Crews-Dezurn (8-1, 2 KOs) meets England's Savannah Marshall (12-1, 10 KOs) on Saturday July 1, at the AO Arena in Manchester, England. ESPN+ will televise the BOXXER Promotions card.
Crews and Marshall are two of the strongest women in the sport. They met before as amateurs and both need a win to fight Claressa Shields the only person to beat either fighter.
Also, Natasha Jonas (13-2-1, 8 KOs) drops down in weight to meet Kandi Wyatt (11-4, 3 KOs) in a welterweight bout for the vacant IBF welterweight title.
Heavyweight Battle in Toledo
Heavyweight contender Jared "Big Baby" Anderson (14-0, 14 KOs) faces former world titlist Charles Martin (29-3-1, 26 KOs) in the main event on Saturday July 1, at Toledo, Ohio. ESPN will televise the Top Rank card.
Anderson has never heard the final bell. All 14 opponents have been knocked out by the heavyweight contender.
Fights to Watch
Sat. ESPN+ 11 a.m. Franchon Crews-Dezurn (8-1) vs Savannah Marshall (12-1).
Sat, ESPN 7 p.m. Jared Anderson (14-0) vs Charles Martin (29-3-1).
Franco/Negrete photo credit: Al Applerose

Published
on
By
Archie Moore's Toledo Phase
The most attractive boxing card on this weekend's docket is being staged in Toledo, Ohio. Jared Anderson and Arslanbek Makhmudov, fast-rising heavyweight contenders with eye-popping knockout ratios, meet credible opponents in the featured bouts. ESPN will televise the Top Rank promotion.
The show will inevitably spawn references to the first big heavyweight fight in Toledo, the July 4, 1919 clash between Jack Dempsey and Jess Willard, the fountainhead of America's Golden Era of Sports. From the standpoint of historic importance, no other boxing event in Toledo has ever come close to matching it, but the city on the shores of Maumee Bay has served as the stomping ground for some colorful boxers including Archie Moore, the man widely considered the greatest of all the light heavyweight title-holders.
Moore's Toledo phase hasn't received much attention. That's understandable as there were so many phases to his remarkable 28-year career.
In a 1954 story for Sports Illustrated, Budd Schulberg found the perfect metaphor. He likened Moore to a tumbleweed.
Indeed, perhaps no other boxer in history drifted across more of the planet. Moore's peregrinations took him to 25 U.S. states plus the District of Columbia, and 12 foreign countries spread across four continents!
It seems fitting that Archie's final ring engagement came against a professional wrestler, Iron Mike DiBiase. Back in those days, long before cable television and flat screen TVs, there were more than a dozen influential wrestling promoters in America, each controlling a specific regional territory. Pro wrestlers hunkered down for a spell when they went to a new city. Eventually the local mat fans would tire of them and off they would go to a new territory. The female counterparts of the pro wrestlers were the bump-and-grind dancers that worked the burlesque circuit.
Archie Moore had much in common with those wrestlers. Early in his career, he had eight fights within a five-month span in San Diego. This was his first of several San Diego phases. The city eventually became his adopted home. St. Louis, where he spent his boyhood, and Baltimore also factored large in his "Mongoose" days before the prefix "Old" was attached to it. He bunched multiple fights inside tight windows in both places.
One of Moore's more interesting phases began in March of 1940. From his base in Sydney, he had seven fights in Australian rings over the next four months, each scheduled for 12 rounds. He would have another foreign phase in 1951. From his base in Buenos Aires, he had eight fights in nine weeks, seven in Argentina and the other in neighboring Uruguay.
Before leaving for South America, Moore had eight fights in Toledo, the first six in 1949.
These were his opponents, listed chronologically:
Jan. 10, 1949 – Alabama Kid – An old warhorse who had been around since 1928,  the Alabama Kid was born Clarence Reeves in Georgia. Moore knocked him out in the fourth round. They would fight again later that year in Columbus, Ohio, where the "Kid" then hung his hat and the result would be virtually identical (Moore KO 3).
Jan. 31, 1949 – Bob Satterfield – A fighter who would be remembered as a knockout artist with a glass jaw, Satterfield was credited with having knocked out 28 of his 35 opponents in pre-fight reports. Moore knocked him down four times before the fight was stopped in the third round.
April 11, 1949 – Jimmy Bivins – This was the fourth meeting of what would be a five-fight series. A future Hall of Famer whose best days were behind him, Bivins brutalized Moore in their first encounter in 1945, but Archie won the rest, stopping Bivins in the eighth round on this occasion. Unlike most of Moore's previous fights, this one achieved good national coverage. The Associated Press had a reporter and a photographer in attendance.
Oct. 4, 1949 – Bob Amos – A Detroiter whose once promising career was on the skids, Amos had gone 10 rounds with Moore in Washington DC the previous year, losing a wide decision. This fight was something of a carbon. "Most of the ringsiders were under the impression that Archie could have put Amos to sleep just about anytime he wanted," said a story in the Toledo Union Journal. Moore may have been saving himself for Phil Muscato. That fight, already signed, was only 20 days away.
Oct. 24, 1949 – Phil Muscato – Hailing from Buffalo where he had developed a strong following, Muscato owned two wins over Lee Savold, a future heavyweight title claimant, and two wins over Tiger Ted Lowry who would go on to fight Rocky Marciano twice, lasting the 10-round distance on both occasions.  Moore nearly had Muscato out in the fourth frame and knocked him down four times in the sixth before the match was halted.
Dec. 13. 1949 – Leonard Morrow – This would stand as Archie Moore's most satisfying triumph until he became a world title-holder. They had met the previous year in Oakland, Morrow's hometown, and Morrow, with only 15 fights under his belt, pulled a shocker, knocking out Archie in the opening round. That killed a match between Moore and light heavyweight title-holder Gus Lesnevich, a match that was close to being signed. The rematch, slated for 15 rounds, was all Moore from the opening bell. Morrow was taken from the ring unconscious after Archie knocked him through the ropes in the tenth round and was never the same fighter.
Jan. 31, 1950 – Bert Lytell – Moore and Lytell ran in the same circle, but only fought twice. Moore won a comfortable 10-round decision over Lytell in Baltimore in 1947. The rematch was closer but Moore prevailed.
March 13, 1951 – Abel Cestac – Moore had four intervening fights between Lytell and Cestac, including a fight in Panama. An Argentine who was recognized as the heavyweight champion of South America, Cestac outweighed Moore by 43 pounds but Archie, now in his mid-30's, was too fast for him and won a 10-round decision. They fought again three months later in Buenos Aires and Moore stopped him in nine.
—-
Archie Moore's Toledo phase rejuvenated his career. It came on the heels of a 1948 campaign pocked by four losses. However, the powers that be were in no mood to give the Old Mongoose a crack at the light heavyweight title. His second fight with Leonard Morrow was framed as an eliminator with the winner facing the newly crowned light heavyweight champion Joey Maxim, but Moore would have 25 more fights before he caught up with Maxim with whom he then shared the same manager in Doc Kearns (a story for another day).
During his light heavyweight title reign, which lasted nine years, Moore made frequent forays into the heavyweight division including title fights with Rocky Marciano and Floyd Patterson. After years of fighting for small purses – "moving around money" in the words of the great sportswriter Jimmy Cannon – Archie finally got to swim with the big fish.
Arne K. Lang's third boxing book, titled "George Dixon, Terry McGovern and the Culture of Boxing in America, 1890-1910," rolled off the press in September of last year. Published by McFarland, the book can be ordered directly from the publisher or via Amazon.

Published
on
By
"Sivenathi is supposed to beat Suganob," according to South African boxing kingpin Andile Sidinile. "Suganob has no power to scare off Sivenathi. He's just a good fighter."
This is as succinct a summary of this weekend's superb clash between elite 108lb contenders Sivenathi Nontshinga (11-0), out of South Africa, and Filipino Regie Suganob (13-0) as can be made. Nontshinga, ranked #5, has the makings of a special fighter. This Sunday, on home soil in East London, SA, he will make the first defence of a strap he won in the hostile territory of Mexico against Hector Flores Calixto, via decision. Aged just twenty-four, "The Special One" surprised in this fight, his coming of age, in choosing war over crafty boxing. Styled from the footwork up to a ramrod jab, he stopped throwing that punch in the fourth, a 2022 round of the year contender, arguably exceeded in some senses by the fifth before he and Calixto took turns brutalising each other in the sixth. Nontshinga received a complete gut, chin and stamina check all in one brutal Mexican evening.
Blood drenched even the ringside paperwork by the end of the fight; Nontshinga had his hand raised on a split. I saw the South African's superior work edging him home by a narrow margin over the Mexican's exhausted volume, but a card for Calixto would not have been a robbery. Right-handed quality in the early part of the fight is what brought him the decision on my card and perhaps he should be thankful to have been treated so fairly so far from home.
Pitching the Calixto win is key to understanding Nontshinga, who, after all, was taking a big step up in a difficult learning fight. It is a fact, however, that Calixto was stopped in ten by journeyman flyweight Mario Gutierrez earlier this year. It could be that Nontshinga brutalised the best out of Calixto, such was the violence of that encounter, but it could be that Nontshinga's punches have been overestimated by the weaker company he kept before that step up. The punches look the part, certainly, but power can be difficult to appraise without the competition to provide the test. Enter Regie Suganob, who is actively looking for a rerun of the Nontshinga-Calixto war.
Manager Floriezyl Podot has repeated often in the build-up that he hopes Nontshinga doesn't "run" while mysteriously referencing "two areas" they feel they can exploit. Goading the man who splattered ringsiders with Calixto's blood is a brave strategy indeed, but Suganob is not a man unaccustomed to overcoming the odds.
Suganob was little more than a handy undefeated local in his elimination match with more colourful countryman Mark Vicelles, but it was clear from the very first that this was going to be something different. Vicelles won that first round, but Suganob demonstrated three fascinating traits – a skill at countering the Vicelles jab; a nice counter left hook; and most of all, a watchfulness, a stillness and composure that allowed him to make use of these. This last should be noted because if Suganob is to defeat Nontshinga that patience in reading is going to be the key. It breathes life into a foraging, improvised style.
In the fourth round of his fight with Vicelles, Suganob added a straight-right to his hook, and countered his bigger opponent to the canvas at which point he assumed control of both the round and the fight. By the sixth the fight was a technical mismatch. Suganob was landing lead right hands before a left hook finally finishing the combination on another right-hand, outrageous combination-punching against a favoured fighter but simply put, Suganob saw and read his man before punishing him accordingly. It took half of the scheduled twelve for him to unpick the opposition's style and then correctly identify the punches that would most punish him. This is not the work of a 13-0 combat athlete.
But nor does Nontshinga box like an 11-0 combat athlete. There are, however, certain shortfalls in amongst his speed, fleet-footwork and apparent power that might make him vulnerable to an ad-libbed strategy built from a technically sure base. Nontshinga's jab is a hurtful, well-formed punch but he does not use it with the variety of a veteran. Nor does Suganob, but the important difference here is that Suganob specialises in countering this punch. Suganob is no more proven against quality opposition, or quality jabs, than Nontshinga, but Nontshinga lost his jab in the Calixto win, too. This may have been a matter of choice rather than a forced adaptation, but I do feel that Nontshinga's jab has been predictable and that might play right into the left-hook/straight right combination punching of Suganob. He might be able to time Nontshinga's speed, and his jab, both.
"I don't underestimate him, I respect him as a boxer," Nontshinga has said of Suganob. "But we're going to win this fight by knockout."
I liked reading this. This, in combination with Podot's jibe about Nontshinga "running" makes me wonder if perhaps we won't see a re-run of Nontshinga's last, thrilling fight, although it should be noted that brawling is not Suganob's primary style, either. It is more likely that Suganob wants Nontshinga attacking because it gives him more opportunities to score high-class counter combos for points. It would be unusual and delightful both if Suganob elected to plant his feet and duke it out but this fight doesn't need early drama to develop into a classic. Disputed early rounds could bait a war out of these two men in the second half of the fight and calling it would be difficult, not despite their inexperience but because of it. There is no way to know how Nontshinga would react to being out-sniped, and no way to know how Suganob would respond to the attack Nontshinga laid down upon Calixto.
In the final analysis, Nontshinga should probably be favoured but I think Suganob is a very live dog. Catching this one may be difficult. It is listed on the DAZN slate with first bell around 9 am ET/2 pm BST, but there remains some question about whether the streaming platform will pick it up at this late date. Personally, I am just happy to see it going ahead given how close it seemed to being cancelled. Already postponed once from mid-June, reportedly for South African broadcast purposes, it was alleged that the fight was in jeopardy due to money the IBF had not been paid by Rumble Africa Promotions who did work for Nontshinga. He has since signed with Matchroom.
If this one drops to politics it will be the third such fight to evaporate this year already, and a tragedy. I hesitate to suggest this will be another fight of the year contender, but it is also true that I slept on Nontshinga-Calixto. Whether on DAZN or another platform –  and there are usually late carriers for these more minor title fights — this one will be worth tracking down.
The Follies of Gervonta Davis: They Gave Him the Key to the City and Now He's in the Slammer
Light Heavyweights on Display as 'Sho Box' Returns to Turning Stone
Adrien Broner Returns to the Ring with an Attorney in the Opposite Corner
Teofimo Lopez Upsets Josh Taylor at Madison Square Garden
Arrests Made in the 2015 Theft of Championship Belts, but There is Sad News
Bazinyan Overcomes Adversity; Skirts by Macias in Montreal
Munguia Nips Derevyanchenko in a Fierce Battle at Ontario
Avila Perspective, Chap. 239: Fernando Vargas Jr. at the Pechanga Casino and More
Powered by IBofP © 2021 thesweetscience.com All rights reserved.
Boxing News: WBA #1 Akui shuts out WBC #16 Vayson … – Fight News

By Joe Koizumi
Photos by Naoki Fukuda
WBA top-ranked flyweight Seigo Yuri Akui (18-2-1, 11 KOs), 111.75, impressively scored a shutout decision (all 100-90) over previously unbeatenWBC#16 light flyweight Filipino Jason Vayson (10-1-1-1NC, 5 KOs), 111.5, over ten speedy rounds on Saturday in Tokyo, Japan. Having relinquished his national 112-pound belt after three successful defenses, the sturdy-built Akui kept a pressure on the fast-moving Filipino footworker with his heavy left jabs, steadily piling up points. The eighth and ninth saw Akui almost catch and finish the durable Vayson, who barely had a narrow escape. Akui, 27, may be a good opposition against either WBA titlist Artem Dalakian or WBO champ-to-be Jesse Rodriguez.
BoxRec: Seigo Yuri Akui
BoxRec: Jayson Vayson
_
Too small to be boxing
I wish the world would do something special for floyed mayweather like they do when the honour other goats or greats he had done amazing things it's crazy how the world don't appreciate what he has done man I'm sitting here thinking about what he has done he changed the game stop playing give it up ya hurd lol that's crazy come on don't wait tell he is gone give it up now I'm begging please please

Session expired
Please log in again. The login page will open in a new tab. After logging in you can close it and return to this page.
David Goyer Shares Details About David Fincher's Two-Hour 'Blade' Meeting: 'It Was Such a Fleshed-Out Pitch' – Yahoo Entertainment




David Fincher hasn't worked on a blockbuster franchise since making his infamous directorial debut on "Alien 3" — a film that he has since disavowed due to what he saw as excessive studio interference — but he has flirted with taking on big properties on multiple occasions. He spent years developing an adaptation of Jules Verne's "20,000 Leagues Under the Sea" for Disney with the intention of casting Brad Pitt. And more recently, he was briefly attached to direct Pitt in a "World War Z" sequel.
Fincher obsessives who are curious about his would-be blockbusters received an interesting tidbit this week when David Goyer made an appearance on the Happy Sad Confused podcast. Goyer is best known for writing DC movies for both Christopher Nolan and Zack Snyder, but he began his career as a superhero scribe by writing all three "Blade" movies. On the podcast, he revealed that he collaborated with Fincher to develop the first film, with the "Fight Club" director being considered to helm the project.
More from IndieWire
The Best Thrillers Streaming on Netflix in October, from 'Fair Play' to 'Emily the Criminal'
2024 Oscars: Best Documentary Feature Predictions
"I developed a draft with Fincher before he had done 'Se7en,'" Goyer said. "I think he had done 'Alien 3' and maybe he was developing 'Se7en.' I developed a draft with him. I remember going to our producers office… There was this giant conference table. Fincher laid out 40 to 50 books of photography and art with Post-It notes inside them. He said, 'This is the movie.'"
Goyer revealed that Fincher pitched his vision for the film with predictably meticulous detail. While Fincher did not ultimately end up directing "Blade," the screenwriter explained that his creative influence was felt throughout the finished product.
"[Fincher] took us on a two-hour tour around the table of the aesthetics of this scene, that character," Goyer said. "It was such a fully fleshed-out visual pitch… I had never seen something like that before. A lot of that thinking infused my further revisions."
Fincher's next film, the Michael Fassbender-led serial killer drama "The Killer," recently premiered at the 2023 Venice Film Festival. Netflix will release the film in theaters on Friday, October 27 before it begins streaming on Friday, November 10.
Best of IndieWire
Nicolas Winding Refn's Favorite Films: 37 Movies the Director Wants You to See
The Best LGBTQ Movies and TV Shows Streaming on Netflix Right Now
Unsimulated Sex Scenes in Film: 'Nymphomaniac,' 'Brown Bunny,' 'Little Ashes,' and More
Sign up for Indiewire's Newsletter. For the latest news, follow us on Facebook, Twitter, and Instagram.
Click here to read the full article.
Boxing News: Early Results from Verona, NY » September 25, 2023 – Fight News




By Boxing Bob Newman at ringside
In a highly skilled and very tactical fight, Junior Lightweights Abraham "Super" Nova and Adam "Blu Nose" Lopez lived up to the predictions that they might deliver the fight of the night. After three tactical rounds, things heated up in the fourth with a nice toe to toe exchange late in the round. In the fifth, a beautiful right-left-right combination deposited Lopez hard on his back. As Nova tried to cut off the ring and follow up on his advantage, he could be heard saying, "It's my birthday…I got to get this win," to a retreating Lopez. (It is in fact Nova's 29th birthday). Nova was credited with another knockdown in the sixth, as Lopez tried to hold on after being raked along the ropes and stumbled to the canvas when he couldn't keep his grip on a backpedaling Nova. Lopez managed to gather himself in the seventh and actually appeared to take the eighth, snapping Nova's head with some beautiful combinations at the end of the round.
Nova was able to hop on his bicycle in the ninth and hold off a charging Lopez with his jab. The tenth and final round was something out of the movies. Both men teed off on each other seemingly non-Stop for easily two out of the three minutes that the round lasted. It was amazing that nobody went down, but Nova capped the round and the fight off by staggering Lopez with the final blows of the fight. Even though 2023 is only 14 days old, it will take some doing to pass this is the round of the year! The final scores were 97-91 and 98-90 twice, all for Nova who comes back with a hard fought win after his loss to Robeisy Ramirez last year, raising his record to 22-1 15 KOs. The hard luck Lopez falls to 16-4, KOs.
Photos: Bob Newman
_
Other Results…
Jr. Lightweight prospect Haven Brady, Jr. had a tougher than expected task in Colombian Ruben Cervera. While Brady looked to pick his shots, Cervera was landing a few of his own, bloodying Brady's lower lip by the end of the second. It became a game of single shots where Brady would vocalize with each blow he threw. Seconds before the end of the fifth, Cervera nailed Brady with an overhand right that stunned him. Cervera tries to follow up and one of his blows did land after the bell, prompting a warning from referee Benjy Esteves, Jr. It appeared that Brady was a bit busier each in each round and really capped it off in the eighth and final round by controlling the ring and dictating the action to the final bell. The final tally read: 78-74, 79-73 and 80-72, all for Brady, Jr. who moves to 9-0, 4 KOs. Cervera slides to 13-4, 11 KOs.
* * *
Local darling Bryce Mills, fighting in front of hometown fans for the first time in his young career put on a solid, workman like performance over tough Margarito Hernandez. Mills displayed excellent skills, footwork and angles in systematically controlling Hernandez over the six rounds. At the end of the second, referee Charlie Fitch called in the doctor to check for bleeding from the left ear of Hernandez, which turned out to be a cut just inside the ear and not internal bleeding from the eardrum. Try as he might Mills could not stop or even drop Hernandez and he did take a few shots from the gritty Washingtonian. In the end, all three judges saw it 60-54 for Mills 11-1, 4KOs. Hernandez slips under .500 at 3-4-1.
* * *
Rising welterweight knockout artist Brian Norman, Jr. tried to blitz Rodrigo Coria in the opening round and almost pulled off the trick. Coria appeared out on his feet seconds into the about, the bottom strand of rope in the neutral corner holding him up, but referee Mark Nelson let matters continue when Coria fought back. Norman Jr. appeared to tire and then paced himself for the rest of the round, letting Coria off the hook. The pace slowed markedly the second, then Norman picked things up a little bit more in the third, but Coria did back Norman to the ropes with some good body work. Coria controlled the fourth with good jabs and body work again along the ropes.
The fifth round saw both men doing good work, each taking a turn controlling pieces of the action. In the seventh, Coria landed some telling headshots in rapid succession, buckling Norman's knees and having him groggy along the ropes. Norman was able to escape and survive the round but the crowd was now revved up! Seconds into the eighth and final round, Norman had Coria in a neutral corner when he himself was clipped and buckled again. He quickly recovered encountered cleanly, dropping Coria to his knees and bringing the crowd to its feet. It wasn't over though as Coria fought back and stunned Norman again along the ropes. There would be no knockout. The scores were 79-72 and 77-74 twice, all for Norman, Jr. who moves to 23-0, 19 KOs, while the gallant Coria falls to 10-5, 2 KOs.
* * *
In the second fight of the night, featherweight prospect Bruce "Shu Shu" Carrington controlled Juan Antonio Lopez over 6 pedestrian rounds for a 60-54 sweep on all three judges' scorecards. Lopez talked almost as much as he threw punches, trying to psych out the highly touted prospect Carrington. Neither fighter was hurt along the way. "Shu Shu" moves to 6-0, 3 KOs, while Lopez falls to 17-13-1, 7 KOs.
* * *
In a rare battle of novice unbeatens, Dante Benjamin, Jr. took on Emmanueal Austin in a scheduled six round light heavyweight opener. After a half round of feeling each other out, Benjamin shook Austin with a combination, finally dropping him near his own corner. A follow-up barrage had Austin reeling, forcing referee Mark Nelson to stop matters at 2:50 of the opening stanza. Benjamin Jr is now 5-0, 3KOs, while Austin loses his first at 6-1, 6KO.
That's a great win for Nova coming off a blowout loss.
I absolutely HATE when they put another sport on right before the fight because you know it's going to run over. It's worst when it's baseball, but with all those timeouts at the end of close basketball games, those things can run on and on and on.
Let's see him step it up now

Session expired
Please log in again. The login page will open in a new tab. After logging in you can close it and return to this page.