Canelo picks JERMELL Charlo. It's a go for Sept. 30 in Las Vegas – The Sweet Science




Published
on
By
If you believe everything that you read on the internet, then you were aware that Canelo Alvarez had picked Jermall Charlo as his next opponent. Even ESPN"s usually reliable Mike Coppinger, who has cultivated a strong grapevine, conveyed the fake news.
"Alvarez is set to defend his undisputed super middleweight championship vs. Jermall Charlo, likely on Sept. 16, sources tell ESPN," Coppinger told to his followers on twitter before hunkering down to hash over the pairing with his ESPN colleague Ben Baby.
Well, yes, Canelo did pick a Charlo as his next opponent, but it wasn't Jermall, but rather his twin brother Jermell. Reportedly the first installment of a three-fight deal between the Mexican superstar and Premier Boxing Champions, the fight will transpire in Las Vegas on Sept. 30. Needless to say, it's a pay-per-view, presumably on Showtime.
It's easy to confuse the two Charlos who both won world titles at 154 pounds and whose parents certainly didn't make it any easier for us by giving the identical twins near-identical names.
Snapshots:
Jarmall (32-0, 22 KOs)
Jarmall won the 1BF super welterweight diadem in 2015 with a third-round stoppage of Cornelius Bundrage and made three successful defenses before moving up to middleweight where he captured the WBC world title with a 12-round decision over Brandon Adams. His third defense of that title came in June of 2021, a lopsided decision over Juan Macias Montiel.
Jarmall hasn't fought since. A back injury, legal problems, and mental health issues stalled his career.
In 2021, he was arrested for the alleged July 16 robbery of a San Antonio restaurant employee after his debit card was declined. Video evidence supported Jermall's claim that it was all a misunderstanding and the charges were dropped.
Later that year, in September, he was arrested in Fort Bend County, Texas, which includes parts of Houston, on a charge of felony assault for striking a 21-year-old man who claimed to be his cousin. These charges were also dropped when the prosecutor determined that he did not have sufficient evidence to move forward. (Per Boxing Scene's Jake Donovan, the charges were bumped from a misdemeanor to a felony because Jermall was a repeat offender. There had been a similar incident in Las Vegas in 2015 which didn't make the local papers.)
Last year, in an unrelated incident, Jarmall filed charges against his wife Shantel Nicole Charlo for an alleged assault. She was arrested, but the authorities did not pursue the matter.
In April of this year, Jermall told his followers on Instagram that he would return in June. "I promise you I will set the summer on fire," he wrote. Nothing came of it.
Now forget everything that I just wrote because Jermall is not the guy who will be fighting Canelo on Sept. 30.
Jermell (35-1-1, 19 KOs)
Jermell won the WBA version of the super welterweight title in 2016 with a come-from-behind eighth-round stoppage of John Jackson. He lost it in his fourth defense when he was controversially out-pointed by Tony Harrison, and regained it in the rematch (TKO 11), after which he acquired the WBA and IBF 154-pound belts with an eighth-round stoppage of Jeison Rosario.
What followed were two fights with Brian Castano, the WBO title-holder, the first of which ended in a draw. Jermell was dominant in the rematch, scoring a 10th-round stoppage, and that made him the first undisputed 154-pound champion in the four-belt era.
Jermell has also had legal issues. In 2019, he was charged with two counts of domestic violence for allegedly assaulting a former girlfriend in Dallas. He refused a plea deal and was found innocent on both counts after a three-day jury trial.
Jermell's best win came on Oct. 14, 2017, when he flattened Erickson Lubin in the opening round with a highlight reel, one-punch knockout. The previously undefeated Lubin was so highly touted that the odds were in the "pick-'em" range.
Jermell had been on a collision course with Australia's Tim Tszyu. They were slated to fight on Jan. 28 at Mandalay Bay in Las Vegas, but that fight fell out when Jermell fractured his left hand in sparring. Rather than wait around for Charlo's injury to heal, Tszyu stayed busy and made great gains in public esteem with impressive showings against Tony Harrison and Carlos Ocampo, the latter of whom he demolished in 77 seconds.
The WBO recently ruled that Jermell would be stripped of the belt if negotiations with Team Tszyu were not consummated by Sept. 30. The organization is expected to defrock Jermell and declare Tim Tszyu their title-holder.
Jermell Charlo will have been out of the ring for 500 days and jumping up two weight classes when he fights Canelo Alvarez (59-2-2, 39 KOs) on Sept. 30. Despite these seemingly big drawbacks, the pricemakers accord him a reasonable chance of winning. One of the first books to post a line on the fight installed Canelo a 2/1 favorite. Should Canelo win, his next fight would logically come against the other Charlo brother.

The Sweet Science Rankings: Week of June 25th, 2023
Avila Perspective, Chap. 242: The Journey of Joshua Franco
Published
on
By
Top Rank was in Toledo, Ohio tonight showcasing two of the sport's most dynamic heavyweights. It was a homecoming for Toledo native Jared Anderson who was matched against former IBF title-holder Charles Martin in the featured bout.
Heading in, Anderson had won all 14 of his fights by knockout while answering the bell for only 33 rounds. Tonight, he was forced to go the distance and although he won a lopsided 10-round decision (98-01, 99-90, 99-90) he had more than a few anxious moments.
Anderson scored the bout's only knockdown, dropping Martin in the waning seconds of round three with an overhand counter right hand. Martin was up in a jiff complaining that their legs had become tangled but replays showed otherwise.
Round five was the most one-sided round of the fight and in a major surprise the round belonged to the pony-tailed Charles Martin who at age 37 was the older man by 14 years. He had the house fighter on rubbery legs. It was the first time in his career that Anderson had faced adversity. But Anderson weathered the storm. Martin (29-4-1, 26 KOs) landed a big left hand in the seconds before the final bell, but Anderson remained upright and when the final bell sounded, the decision that would be rendered in his favor was a mere formality.
Makhmudov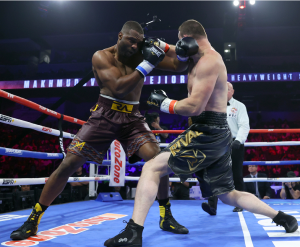 Arslanbek Makhmudov has stopped 16 of his 17 opponents. The latest victim was Raphael Akpejiori who was overwhelmed in a match that was all over in the second round. A native of Nigeria who lettered four years in basketball at the University of Miami without getting much playing time, the six-foot-eight Akpejiori entered the contest with a misleading 15-0 (14) record.
A stablemate of Artur Beterbiev, Makhmudov carried 263 ½-pounds on his six-foot-five frame. There is no finesse to his game – both he and Akpejiori drew warnings in the opening round for roughhousing – but like Beterbiev, he is a human steamroller, a man who clubs his opponent into submission, albeit not as methodically as Beterbiev; at age 34, the Russian Lion is a man in a hurry. He scored three knockdowns before the fight was waived off.
Other Bouts of Note
In a 6-round match that was sandwiched between the main attractions, Abdullah Mason (8-0, 7 KOs), a 19-year-old Cleveland southpaw with a big upside, blasted out Alex de Oliveira in the second round. A succession of left uppercuts, the last of which came with de Oliveria off his feet, sprawled against the ropes, brought the bout to a conclusion at the 2:18 mark of the second stanza. It was the fifth straight victory inside the distance for the Cleveland phenom who advanced to 9-0. de Oliveira, a 37-year-old Brazilian who stepped away from boxing for 10 years to pursue a career as a lawyer, falls to 20-5.
Cleveland junior welterweight Delante "Tiger" Johnson, a Tokyo Olympian, advanced to 10-0 (5) With an 8-round shutout over Jonathan Montrell (15-2) of New Orleans. The fight wasn't quite as lopsided as the 90-72 scores would suggest. Montrell was a willing mixer but was outclassed.
In an 8-round junior lightweight affair, Toledo's Tyler McCreary finished strong to win a unanimous decision over Deivi Julio. It was the second fight back for McCreary (18-2-1) following back-to-back defeats and then a drive-by-shooting in which he suffered a gunshot wound to his hand. The scores were 59-54 and 57-56 twice.
A 42-year-old Brazilian, Julio (26-14) had his moments and would have theoretically earned a draw if not for having had a point deducted for holding in the second round.
There was a big upset in a 6-round junior welterweight match. Rance Ward, a boxer from Houma, Louisiana, who was 7-5-1 heading in, scored a majority decision over previously undefeated Husam Al Mashhadi (6-1, 5 KOs). The scores were 59-55, 58-56, and a curious 57-57.
Photo credit: Mikey Williams / Top Rank via Getty Images
Published
on
By
In a brutal and somewhat sloppy fight Savannah Marshall defeated Franchon Crews-Dezurn to become the new undisputed super middleweight champion on Saturday.
It was not picturesque.
Fighting 100 miles from her hometown, Marshall (13-1, 10 KOs) battled her way to victory over America's Crews-Dezurn (8-2, 2 KOs) in front of a large and vocal crowd at Manchester Arena in Manchester, England.
Marshall, a former middleweight title-holder, now holds the WBO, WBA, WBC and IBF super middleweight titles.
"I can't describe how I feel," said Marshall.
From the opening round Crews attacked Marshall boring in with punches and never allowing the taller fighter to use her height and leverage to unload her powerful blows. Marshall clinched immediately in the first round.
Marshall made some adjustments in the second round as Crews attacked boldly again. Marshall fired a few counters and clinched again in a closer round than the first.
It was clear that Crews was not going to allow Marshall to fight on the outside and use her reach. The American champion dived in again while pumping blows to the body and head. Most of her overhand rights flew over the target. Marshall connected with a clean right counter.
Beginning in the fourth round Marshall used her jab as Crews attacked. That stalled the champion and allowed for space for the British fighter to connect. Though not many blows were landed by either fighter, Marshall's were cleaner and more visible.
Both fighters clinched inside and it seemed Crews was the physically stronger between the two in grappling. Little by little the clinching seemed to take energy away from Marshall.
Around the 7th round the constant dive attacks of Crews began to take a physical toll on Marshall. The energy seemed to wane from the British fighter and Crews was able to score more than in the previous three rounds. It was Crews best round since the second.
The constant grappling and clinching continued to take energy away from Marshall. Crews seemed more energized and though few punches were clean, she was scoring to the body and head.
It seemed a rallying point for Crews during the seventh and eighth but the rounds were never clearly defined. Neither fighter was ever visibly hurt.
Marshall mustered up energy in the ninth round, beginning with a clean left hook. Then a three-punch combination followed by a two-punch combination connected for the British fighter. Crews lost the momentum she had gained.
In the 10th and final round, it was unclear who was winning. Neither fighter could truly hurt the other. And were judges scoring the body blows?
Both fighters tangled immediately and though each fired blows it was Crews who was the busier fighter. But neither was able to connect cleanly with any blows. After 10 rugged rounds the judges saw the fight 95-95, 99-92, 97-93 for Marshall who wins by majority decision and becomes the new undisputed super middleweight champion.
"She's a tough, tough fighter," said Marshall about Crews-Dezurn.
Natasha Jonas Wins
Despite moving down a weight division Natasha Jonas battered Canada's Kandi Wyatt before ending the fight by technical knockout in a welterweight world title fight.
The end was seldom in doubt.
Jonas, the former super welterweight champion, dropped down to 147 and immediately displayed her firepower in staggering Canada's taller Wyatt with a left cross. The southpaw fighter immediately went on attack and tried to end the fight in the first round, but could not.
After expending extra energy in the first round Jonas budgeted her punch outtake in the second round. Her right hooks rocked Wyatt and once again Jonas went back on attack. She ended the round with lead left bombs.
Still, Wyatt was upright.
Jonas boxed and moved toward her left, not her right as southpaws normally do. It seemed to puzzle Wyatt. Jonas was in complete control of the fight through the first four rounds.
Wyatt made her move in the fifth round by targeting the body. Unable to score often to the head in the earlier rounds, the Canadian fighter's work to the body opened up more targets and changed the momentum slightly. It was Wyatt's best round so far.
It must have made an impression on Jonas who opened up with crisp one-two combinations one after another. All connected and jolted Wyatt. Jonas was back in control. A succession of three crisp left crosses connected at the end of the sixth round.
Jonas took over completely in the seventh round with three-punch combinations one after the other. Wyatt's head snapped back causing the referee to look more cautiously. Wyatt fired back or else the fight might have been stopped.
In the eighth round it was evident that Jonas had no fear of Wyatt's punches and she attacked with more three-punch combinations. Wyatt absorbed the shots but was unable to fire back with any power. A crisp left connect by Jonas caused the referee to rush in and stop the action at 33 seconds of the eighth round.
Jonas was declared the new IBF welterweight world titlist by technical knockout.
Now who will Jonas face next?
"I don't really care," Jonas said to SKY Sports. "I'll fight whoever the fans want to see."

Other Bouts
Olympic silver medalist Ben Whittaker (4-0) won by stoppage in the eighth and final round over Vlad Belujsky (13-7-1) in a light heavyweight fight. The tall rangy fighter displayed a powerful left hook and agility in his one-sided win.
Callum Simpson (12-0) remained undefeated but had a tough time against Boris Crighton (11-4) who withstood every attack by the favored fighter. Simpson had problems smothering his own attacks but managed to out-punch Crighton to win the super middleweight 10-round fight by unanimous decision.
Mark Jeffers (16-0) used his counter-punching style and quickness to defeat Zak Chelli (13-2-1) and win a regional title by unanimous decision.
In a female super welterweight match April Hunter (7-1) out-worked Kirstie Bavington (7-5-2) to win by decision after eight rounds.


Published
on
By
The Sweet Science Rankings: Week of June 25th, 2023
135lbs
1 Devin Haney (USA)
2 Gervonta Davis (USA)
3 Vasily Lomachenko (Ukraine)
4 Isaac Cruz (Mexico)
5 William Zepeda Segura (Mexico)
6 Frank Martin (USA)
7 George Kambosos Jnr (Australia)
8 Shakur Stevenson (USA)
9 Raymond Muratalla (USA)
10 Keyshawn Davis (USA)
140lbs
1 Teofimo Lopez (USA)
2 Regis Prograis (USA)
3 Jose Ramirez (USA)
4 Jose Zepeda (USA)
5 Jack Catterall (England)
6 Subriel Matias (Puerto Rico)*
7 Arnold Barboza Jr. (USA)*
8 Gary Antuanne Russell (USA)*
9 Zhankosh Turarov (Kazakhstan)*
10 Shohjahon Ergashev (Uzbekistan)*
147lbs
1 Errol Spence (USA)
2 Terence Crawford (USA)
3 Vergil Ortiz Jr. (USA)*
4 Jaron Ennis (USA)*
5 Eimantas Stanionis (Lithuania)*
6 David Avanesyan (Russia)*
7 Cody Crowley (Canada)*
8 Roiman Villa (Colombia)*
9 Alexis Rocha (USA)*
10 Rashidi Ellis (USA)*
154lbs
1 Jermell Charlo (USA)
2 Tim Tszyu (Australia)
3 Brian Castano (Argentina)
4 Brian Mendoza (USA)
5 Jesus Alejandro Ramos (USA)*
6 Sebastian Fundora (USA)*
7 Erickson Lubin (USA)*
8 Michel Soro (Ivory Coast)*
9 Magomed Kurbanov (Russia)*
10 Tony Harrison (USA)*
160lbs
1 Gennady Golovkin (Kazakhstan)
2 Carlos Adames (Dominican Republic)
3 Janibek Alimkhanuly (Kazakhstan)
4 Liam Smith (England)
5 Erislandy Lara (USA)
6 Sergiy Derevyanchenko (Ukraine)
7 Felix Cash (England)
8 Esquiva Falcao (Brazil)
9 Chris Eubank Jnr. (England)
10 Michael Zerafa (Australia)
168lbs
1 Canelo Alvarez (Mexico)
2 David Benavidez (USA)
3 Caleb Plant (USA)
4 Christian Mbilli (France)
5 David Morrell (Cuba)
6 John Ryder (England)
7 Pavel Silyagin (Russia)
8 Vladimir Shishkin (Russia)
9 Carlos Gongora (Ecuador)
10 Jaime Munguia (Mexico)
175lbs
1 Dmitry Bivol (Russia)
2 Artur Beterbiev (Canada)
3 Joshua Buatsi (England)
4 Callum Smith (England)
5 Joe Smith Jr. (USA)
6 Gilberto Ramirez (Mexico)
7 Anthony Yarde (England)
8 Dan Azeez (England)
9 Ali Izmailov (Russia)
10 Craig Richards (England).
200lbs
1 Jai Opetaia (Australia)
2 Mairis Breidis (Latvia)
3 Chris Billam-Smith (England)
4 Richard Riakporhe (England)
5 Aleksei Papin (Russia)
6 Badou Jack (Sweden)
7 Arsen Goulamirian (France)
8 Lawrence Okolie (England)
9 Yuniel Dorticos (Cuba)
10 Mateusz Masternak (Poland)
Unlimited
1 Tyson Fury (England)
2 Oleksandr Usyk (Ukraine)
3 Zhilei Zhang (China)
4 Deontay Wilder (USA)
5 Anthony Joshua (England)
6 Andy Ruiz (USA)
7 Filip Hrgovic (Croatia)
8 Joe Joyce (England)
9 Dillian Whyte (England)
10 Frank Sanchez (Cuba)

The Follies of Gervonta Davis: They Gave Him the Key to the City and Now He's in the Slammer
Light Heavyweights on Display as 'Sho Box' Returns to Turning Stone
Adrien Broner Returns to the Ring with an Attorney in the Opposite Corner
Teofimo Lopez Upsets Josh Taylor at Madison Square Garden
Arrests Made in the 2015 Theft of Championship Belts, but There is Sad News
Munguia Nips Derevyanchenko in a Fierce Battle at Ontario
Berlanga UD 12 Quigley in New York; Adames TKO 9 Williams in Minnesota
Tim Tszyu Blasts Out Carlos Ocampo in 77 Seconds
Powered by IBofP © 2021 thesweetscience.com All rights reserved.
Chargers News: Fight Erupts Between Bolts and Ravens After Late Hit on Justin Herbert – Sports Illustrated
UFC news: Erin Blanchfield gives update on next fight, title hopes – MMA Junkie




Erin Blanchfield patiently awaits her next UFC assignment.
Although it's not totally clear what that will be, Blanchfield (12-1 MMA, 6-0 UFC) assumes an important matchup with Manon Fiorot (11-1 MMA, 6-0 UFC) is likely. The two flyweight combatants have established themselves as top contenders in a division that awaits a championship rematch between champion Alexa Grasso and former champion Valentina Shevchenko while they both recover from injury.
"Yeah, it's definitely stalling," Blanchfield recently said during an online live stream for digital wallet platform HUMBL. "I feel like I've had a couple No. 1 contender fights now. But you know, I'm still pretty young and gained valuable experience in those fights. … Whether it's an interim or not, I'll beat (Fiorot), and then I should definitely get a title next."
Although UFC CEO Dana White has indicated it's next, no timeline has been revealed for Grasso (16-3-1 MMA, 8-3-1 UFC) vs. Shevchenko (23-4-1 MMA, 12-3-1 UFC). Shevchenko had hand surgery in mid-September. Coincidentally, Grasso underwent hand surgery in early October.
Should there be further delays, Blanchfield wouldn't mind seeing an interim title implemented. She's healthy and ready to go, following a slight nasal fracture suffered in a unanimous decision win over Taila Santos in August.
"I haven't been told about that yet," Blanchfield said. I would definitely push for that. That's something I'd definitely be interested in. I'm not sure when Valentina and Alexa are going to be ready to fight again. I know I think they're on a similar timeline in their recovery. I would hope that if it ends up being longer, they'd have me and Manon fight for an interim."

Be sure to visit the MMA Junkie Instagram page and YouTube channel to discuss this and more content with fans of mixed martial arts.

Be sure to visit the MMA Junkie Instagram page and YouTube channel to discuss this and more content with fans of mixed martial arts.
Sign up for our newsletter to get updates to your inbox, and also receive offers from us, our affiliates and partners. By signing up you agree to our Privacy Policy
Sign up for our newsletter to get updates to your inbox, and also receive offers from us, our affiliates and partners. By signing up you agree to our Privacy Policy
Please re-enter your email address.
You'll now receive the top MMA Junkie stories each day directly in your inbox.

© Copyright MMA Junkie 2023


Powered by WordPress.com VIP
Please enter an email address.
Thanks for signing up.
Please check your email for a confirmation.
Something went wrong.
2 dead after fight outside Sacramento County bar leads to shooting – CBS News




Watch CBS News
By Brandon Downs, Cecilio Padilla
/ CBS Sacramento
SACRAMENTO COUNTY – Two men died after they were shot outside of a bar in Sacramento County early Sunday morning, the Sacramento County Sheriff's Office said.
Deputies responded to Sacto By Night at 7121 Governors Circle at about 1:45 a.m.
A group of people who were leaving the bar got into a fight outside, leading to a shooting, deputies said.
The victims, who were two men, died at the scene, deputies said. One of them was the owner of the bar.
Investigators with the sheriff's office believe a group of gang members who initially refused to leave the nightclub at closing is at the center of the incident. Those gang members apparently got involved in a fight in the parking lot, investigators said, with the suspected shooter being one of those gang members.
Witnesses described a white vehicle that took off from the scene. Deputies said the CHP located a vehicle matching the description and detained four people from that vehicle.
The people detained have since been identified as being allegedly involved in the shooting. Several guns have been recovered.
According to the sheriff's office, the names of the suspects will be released once homicide and related charges are filed.
Brandon comes to CBS13 from Action News Now (KHSL/KNVN) in Chico where he spent two years as the Digital Content Manager.
First published on November 26, 2023 / 3:05 PM PST
© 2023 CBS Broadcasting Inc. All Rights Reserved.
©2023 CBS Broadcasting Inc. All Rights Reserved.